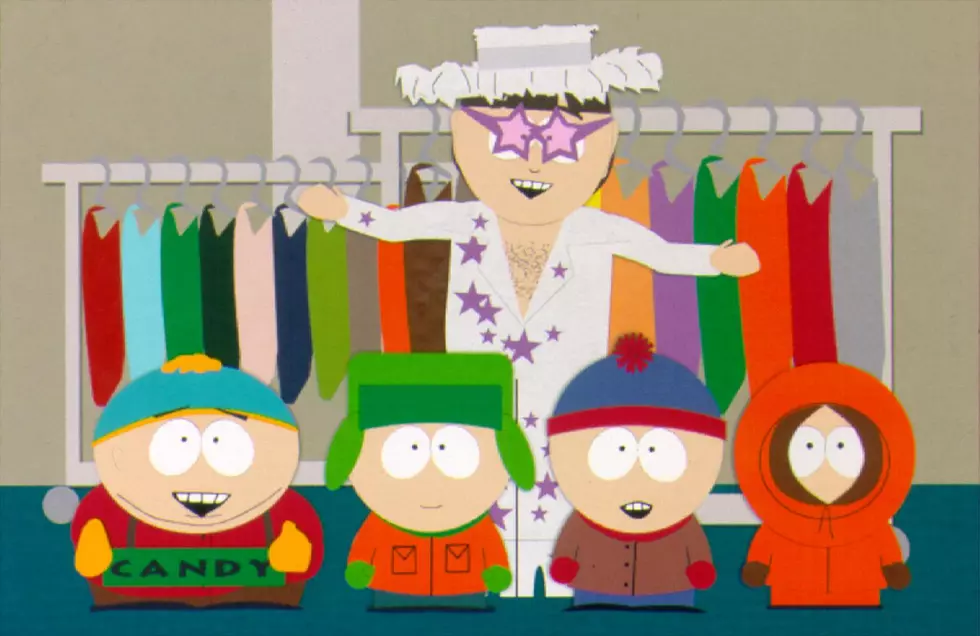 Today It's Live Eagles, Weird Elton Titles & Amazing Guitar Pickin's
Elton John on "South Park", 1998. (Getty Images)
Elton's best? -- Eagles last? -- A guitarist who has played with everybody! -- Two you know and one you should, please enjoy this extra-tasty Nov. 10th Coffee Break Calendar...
11/10/1973 (47 years ago today) - The album was originally going to be titled "Vodka and Tonics and Silent Movies, Talking Pictures": On this date, Elton John starts eight weeks at No. 1 with what is arguably his best record ever, the ridiculously perfect double-vinyl "Goodbye Yellow Brick Road" -- Not many two-LP sets go on to sell over 18 million copies, but the pure craftsmanship and song quality more than carry the day -- In addition to the title track, there's "Candle In The Wind", "Bennie and the Jets" and "Saturday Night's Alright For Fighting", along with some of Reggie's greatest non-hit-single tracks like "All The Girls Love Alice", "Funeral For A Friend/Love Lies Bleeding", and the as-good-as-The-Stones raunch of "Dirty Little Girl", making this set a true rock masterpiece, and a must-have for your collection. Get yours now!
11/10/1979 (41 years ago today) - The Eagles hit No. 1 with "Heartache Tonight", their fifth (and final) U.S. chart-topping single -- Betcha didn't know: Bob Seger wrote the chorus(!), and the song was later covered by Country & Western legend Conway Twitty, as well as Tom Jones and softy-jazzman Michael Buble who did it in a big band arrangement. This version ain't half-bad:
11/10/1997 (23 years ago today) - Highly-in-demand session guitarist Tommy Tedesco passed away at age 67 following a protracted battle with lung cancer -- If you don't think you know him, you've undoubtedly heard him: Tommy played on many classic TV themes including "Bonanza", "The Twilight Zone", "M*A*S*H", "Green Acres" and "Batman", plus some truly influential movie soundtracks such as "The Godfather", "Jaws", "The French Connection" and "The Deer Hunter" -- According to "Guitar Player" magazine (who would know these things), Mr. Tedesco was the Most Recorded Guitarist in History, having also played on releases from The Beach Boys, Frank Zappa, Elvis Presley, Barbra Streisand, The Everly Brothers, Sam Cooke, Cher, The Mamas & Papas, Ricky Nelson, Nancy and Frank Sinatra and The Supremes to name just a few! Had to be a mighty cool dude is what we think...
Share your pickin'-and-a-grinnin' with the Calendar here on our web site and on the WBLM Facebook and Twitter pages with the hashtag #TommysCoffeeBreak.
"...Nobody wants to go home now/There's too much goin' on...", xoxo!