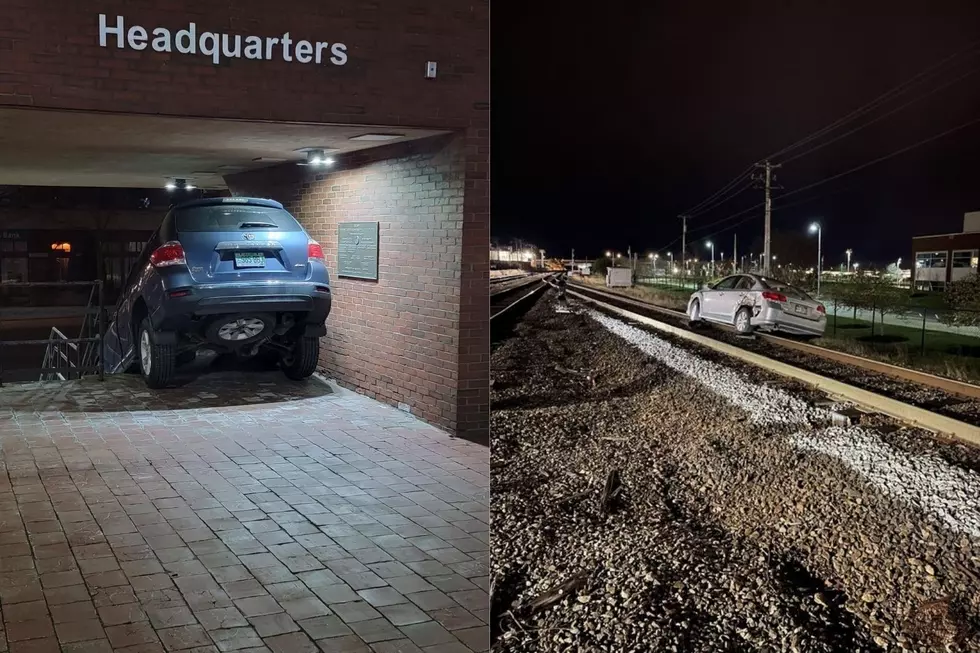 Two Cars Ended Up Not Where They're Supposed to Be in Portland, Maine on Friday
Portland Maine Police Department via Facebook
Friday, April 29th was obviously a busy night in downtown Portland after many are waking up to see two posts from the Portland Maine Police Department back to back of cars being not where they're supposed to be.
The first is of a Mainer that was driving under the influence. Fortunately, it doesn't appear that anyone was hurt in this incident but there is something funny about where this 26-year-old female ended up of all places.
This unnamed woman ended up driving through the Portland Police Department parking garage headed toward Middle Street. Only in her drunken state, she decided to take the stairs. In her car. Obviously, that didn't end well for her and there's minimal property damage.
Later in the evening another story of a car being not where it's supposed to be. Thankfully this one wasn't a case of drinking and driving, but an out of stater being confused.
According to Portland PD, this 25-year-old male took a wrong turn onto the railroad tracks off of Congress Street and didn't realize it until it was too late. To be fair, driving on the cobblestone probably doesn't feel all that different.
Friday night serves as another reminder to not drink and drive. Have that designated driver handy or call an Uber. If you're not super comfortable with an area turn on your GPS. Especially with all the detours with the construction going on right now. You may pop out somewhere you're not used to and find out, "you can't get there from here."
35 Things Mainers Say They Love About Portland
Mainers shared on Facebook their favorite parts about the city of Portland.
Family Friendly Day Trips From Portland, Maine Your Kids Will Love
Looking for something fun to do with the family but want to stretch your legs outside of Maine for the day or weekend? Here's a list of fun spots for you and your family to enjoy that could easily be done as a long day trip or a quick weekend away. Everything on this list is within x hours of Portland.
For reference, when putting in Portland, Maine on Google Maps, it places the street view guy at Portland Town Hall. Depart time is being set at 8:00 am on a Saturday in June to account for traffic.
Did your favorite make the list? Anywhere new you plan to check out?