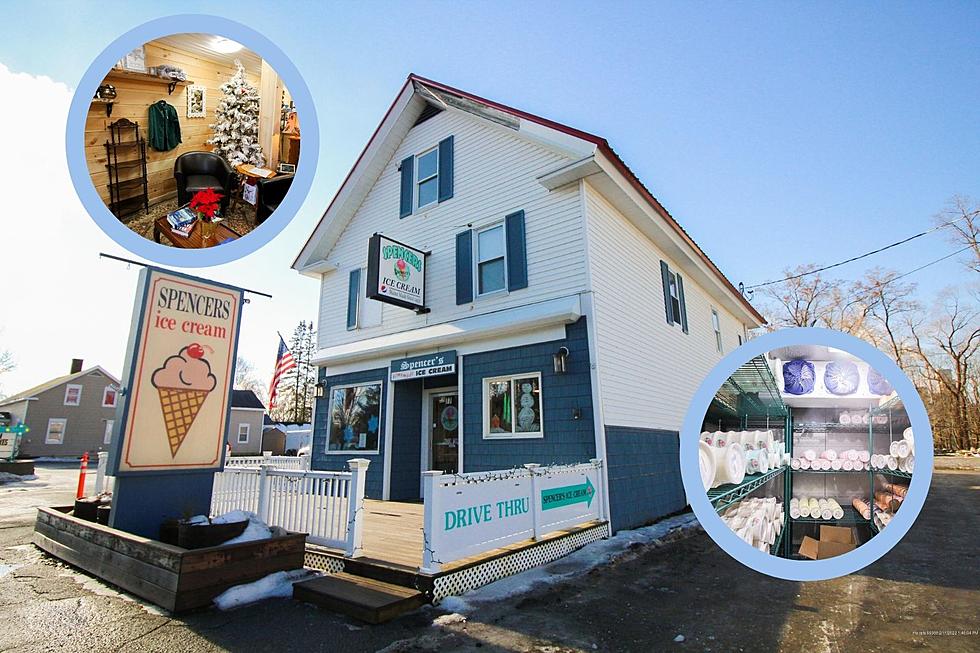 Want to Start an Ice Cream Empire? Iconic Bradley, Maine Shop Can be Yours
Renee Hudgens, Chez Renee Team, Realty of Maine: Canva
Let's be honest, Maine is a great ice cream state. From the Sea Dog Biscuit to a scoop from the side of the road, we are fortunate to have so much delicious dairy.
Is Maine Known for Ice Cream?
It probably should be. If you grew up in this state your favorite brand wasn't Breyer's or Baskin-Robbins. It was Gifford's or Deering (RIP). We didn't go to TCBY. We went to Beal's, Big Daddy's or one of the 15,000 small, awesome ice cream huts around this great state.
This state has great handmade ice cream. Now, one of those iconic shops is for sale.
Bradley, Maine's Ice Cream
A few miles up the road from Bangor lies the small town of Bradley. The Bangor suburb has a small, little ice cream shop right in the heart of the village, that's been a for nearly a century. And it's for sale.
Spencer's Ice Cream has been selling the sweet treat since 1933. The space itself, has been used for more than just ice cream. It's been a general store, sold pizza, even a meat shop. However, since 2018 the primary focus has been on the ice cream operation. This meant the owners had to get a bit more creative.
They added a wholesale side of the operation. This includes equipment and trailers for catering events and private parties. This has helped with supplemental income.
The property also boasts two one-bedroom apartments, perfect for more income opportunities.
This once-in-a-lifetime turnkey business is available through Renee Hudgens from the Chez Renee Team, Realty of Maine. The asking price is $1.35 million.
Are you ready to start your ice cream empire?
Iconic Maine Ice Cream Shop For Sale
Just miles from Bangor is the small suburb of Bradley. This little town has an ice cream legend, Spencer's. It also just so happens that Spencer's is for sale.
Being sold by
Renee Hudgens from Realty of Maine
, this property includes a year-round ice cream operation, all the equipment, plus two one-bedroom apartments. The price tag is $1.35 million.
Are you ready to become an ice cream emperor? Well, Spencer's might be the shop for you.
25 Stops Between Bangor and Bar Harbor
Between Bangor and Bar Harbor, there are plenty of spots to find a bite to eat, trails to hike, places to shop, and things to do. Here are ways to take in the touristy and not-so-touristy spots on Route 1A.
The Friendliest Bars In Bangor
Reaching out to our listeners, we asked where the friendliest bars in the Bangor area were. Many were mentioned but a few got so many mentions that we put together a list to showcase who our listeners thought deserved this amiable title. Behold!