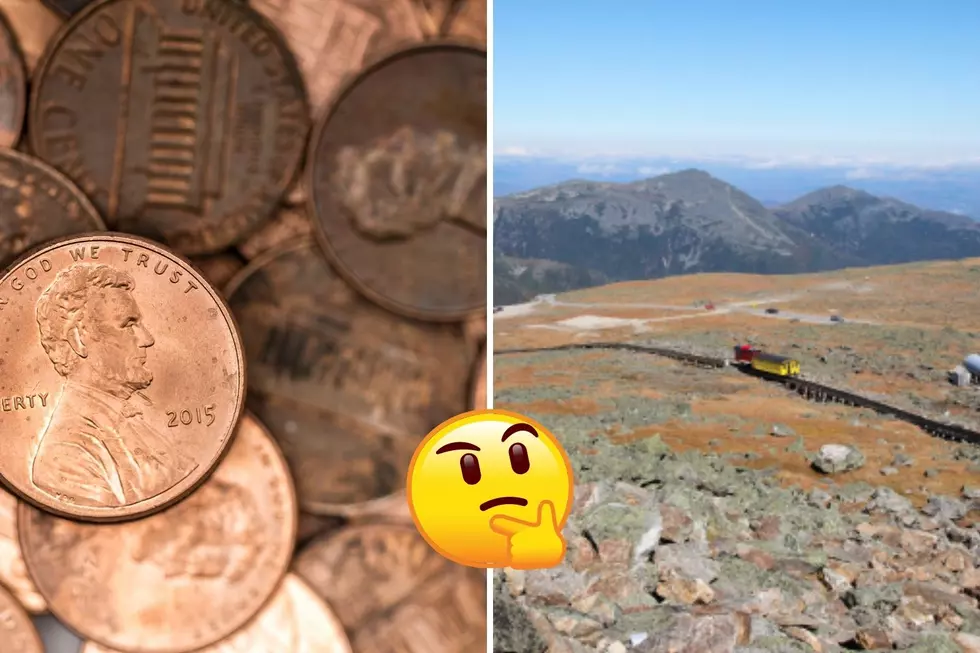 Why Do People Throw Pennies on This Rock on Mount Washington in New Hampshire?
Canva, Getty
If you've never taken a ride on the Cog Railway up Mount Washington, it is something you need to experience at least once. Sure, it only goes about five miles per hour. People actually climb the mountain faster all the time, but that's not the point, okay?! You get to learn all about the rich history of the Mountain and all of the cool and scary stuff that has happened on its peaks and valleys over the last 150 years. Plus, once you ride the Cog once, you can refer to yourself as a "Cogger", and that's a fun club to be in.
On our way down, our snarky and hilarious tour guide told us about "Penny Rock", also known as "Money Rock". He told us that if a Cogger throws a penny out the window onto the rock and it lands heads up, their life will be forever changed. The rock is covered in hundreds of pennies from Coggers over the years. I, of course, participated, and my penny landed heads up! It made the most satisfying sound when it hit the rock. "BINK!" What a thrill!
From that moment on, I needed to know the origin of this fun tradition. Who started throwing pennies on this rock? When? Why? I decided to go straight to the source and send the Mount Washington Cog Railway a message asking exactly that. This is the response I received:
"Hi, It's funny I ride the train all the time and I have never heard about penny rock, also know as Money rock. I have talked to a few long time employees and no one seems to know when it came into being... I know it was not before 1979. "
And then a day or so later, this message came through:
" I ended up hearing from more brakemen. The only good story I heard was it was a way to pay for your safe passage."
The moral of the story? Nobody really knows! But I'll be sure to circle back in a few months and let you know if my life has changed forever.
PS: The White Mountains got their name not because of snow, but because the Mica laden rocks on the summits looked "white" to observers! That was just one of the many fun facts I learned on the Cog! #CoggerforLife
What 22 Things From New Hampshire Would Out-of-Staters Recognize?
WOOF: These are the most popular dog breeds in America