Happy Birthday Malcolm Young! [VIDEO]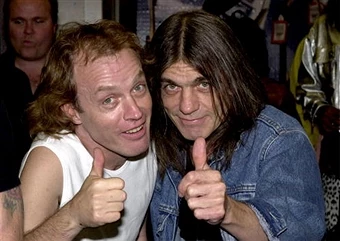 Angus Young's older brother Malcolm turns 61 today. He is the rhythm guitarist, song writer, background vocalist and a founding member of AC/DC. With the exception of a brief departure in 1988, he has always been in AC/DC. Remember when they played the Civic Center on The Blow Up Your Video Tour? That was cousin Steven Young filling in for Malcolm and he looked just like him too. Malcolm is a very big reason AC/DC consistently kicks ass and never compromises their sound. We're celebrating with lotsa Acca Dacca today on BLM.
Check out this video of AC/DC performing on The Midnight Special in 1978 introduced by Ted Nugent and Steven Tyler!!