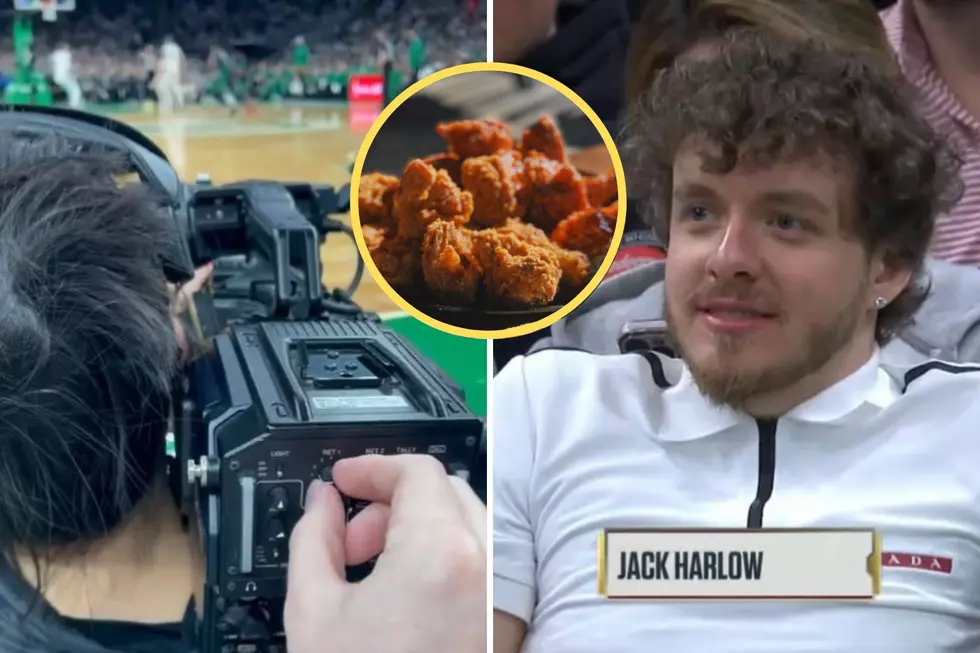 After Yesterday's Boston Celtics Game, Jack Harlow Owes an NBA Camerawoman Chicken Fingers
SportsCenter via Twitter / Overtime via Twitter / Dylan Lu
Rapper Jack Harlow was at the Celtics game yesterday
Yesterday afternoon saw Boston Celtics playoff action continue as Game 1 of the Conference Semifinals as the C's hosted the visiting Milwaukee Bucks at TD Garden in Boston. It just so happened that rapper Jack Harlow was in the area after taking the stage in at the Tsongas Center on the campus of UMass Lowell in Lowell, Mass on Saturday night, and also had a performance scheduled at the Mullins Center on the campus of UMass Amherst in Amherst, Mass, after the game last night.
And other than a hilarious "hot mic" moment that was caught on camera and posted by ESPN's SportsCenter page on Twitter, which involved a conversation between two referees asking who Jack Harlow is...
...Jack also made an impact on the other side of the camera, as well. But not as a camera operator -- instead, he decided to mess with an NBA camerawoman that was positioned right in front of his courtside seat.
The camerawoman responded about the incident on Twitter
The woman holding the camera that Jack decided to play with during the game identified herself on Twitter as Tami Nguyen. In a situation like that, you'd probably expect anyone operating a camera like that in general, but especially for a nationally televised game, to be heated that someone would so rudely reach out and mess with the camera settings during a live broadcast. To Tami's credit, though, she took it all in stride.
Tami also mentioned on Twitter that Jack and his team apologized to Tami and she said there are "no hard feelings" about the incident.
And to his credit as well, Jack stepped up and said that he'd get Tami her requested chicken fingers.
Drama avoided and crisis averted, but let this be a lesson and example that it's not cool, no matter who you are, to mess with someone just trying to do their job, do it well, and earn a paycheck. Tami went on to say that because of this incident and because she doesn't want to be harrassed during upcoming TD Garden events, she may sit out of the next few playoff games.
Speaking of local sports, check out 15 of the most scenic golf courses in New England
The Red Sox also played yesterday, and these 30 celebrities are members of Red Sox Nation
There are many celebrities that are a part of the Red Sox Nation! Some have season tickets while you may see some at only a couple of games every year.