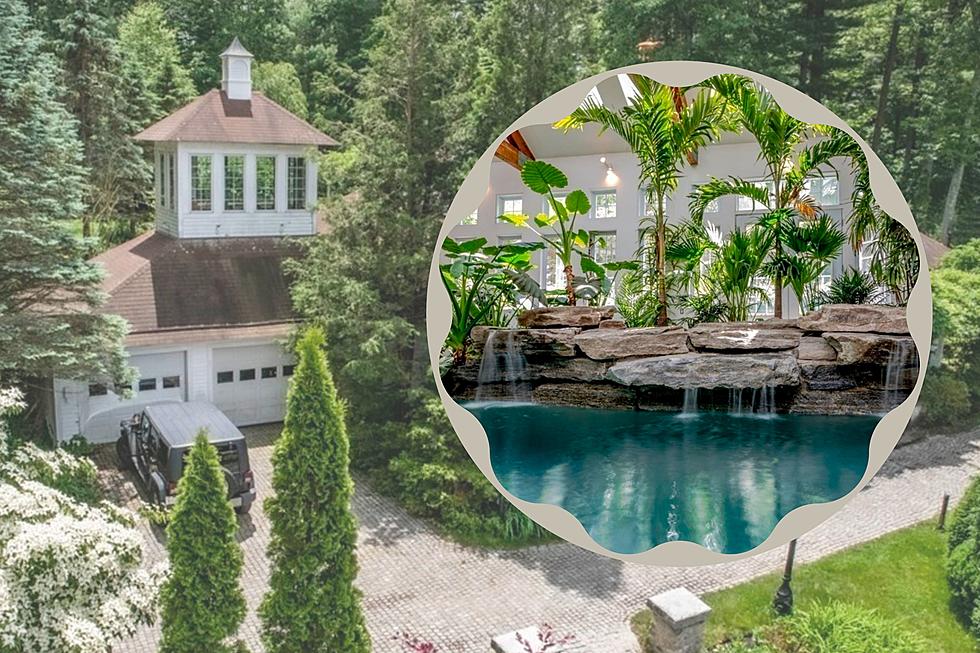 Bask in Your Own Tropical Paradise in the Middle of Massachusetts
The Edwards Realty Team, Barrett Sotheby's International Realty
Sometimes you just need a little tropical getaway. If you choose to become the new owner of this spectacular home for sale in Clinton, Massachusetts, you'll have your very own tropical paradise at your disposal, so you can take that much-needed getaway whenever you feel like it.
A stunning cobblestone driveway leads to this stunning estate on its own private island in Clinton. Surrounded by 27 acres of pond and wetlands, this 7 thousand square foot estate is full of beautiful flora, rhododendrons, honeysuckle, grape vines and much, much more. You'd never know you were less than 30 minutes north of Worcester.
But let's get the crown jewel of this place: The pool house. This one area of the estate alone takes up 2700 square feet, and it's every tropical weather-loving person's absolute dream. A plethora of natural light drains through all of the pool house's numerous windows. The water is a gorgeous turquoise that makes you want to just dive in and swim in there even after you turn into a prune. Tropical trees and tiny waterfalls make every aspect of this pool seem like it's naturally-occurring, and it's truly a remarkable thing.
Sound intriguing? Go ahead. Wind your way down cobblestone pathways and through gardens of rhododendrons. Explore your way through the estate's many rooms and winding staircases. But don't forget to check out that incredible pool house. I guarantee you'll want to pull up a good book and stay awhile.
Bask in Your Own Tropical Paradise in the Middle of Massachusetts
Massachusetts residents truly are lucky in that we get to experience all four seasons throughout the year. But you know one thing we
are
missing? A little bit of tropical paradise.
Step inside this home for sale
smack dab in the middle of Massachusetts that actually offers exactly what the rest of the state is missing out on.... We promise this place is
epic
.
This stunning estate is currently on the market for $2.59 million. It's located at 35 S Meadow Rd in Clinton, Massachusetts.
A Look Inside Jay Leno's Newport Mansion
Since 2017, Jay Leno has lived the life of luxury on Ocean Avenue in Newport, Rhode Island, and here's a peek inside.
Fairhaven's Historic Henry Huttleston Rogers' Potting Shed for Sale
See pictures of
18 Cedar Street
, the site of Henry Huttleston Rogers' former potting shed for his greenhouse that could actually be your dream home in Fairhaven Village.
Wareham's Charming Old Red Farm Inn for Sale
This 1703 farmhouse has been carefully updated and has been used as an inn for many years.