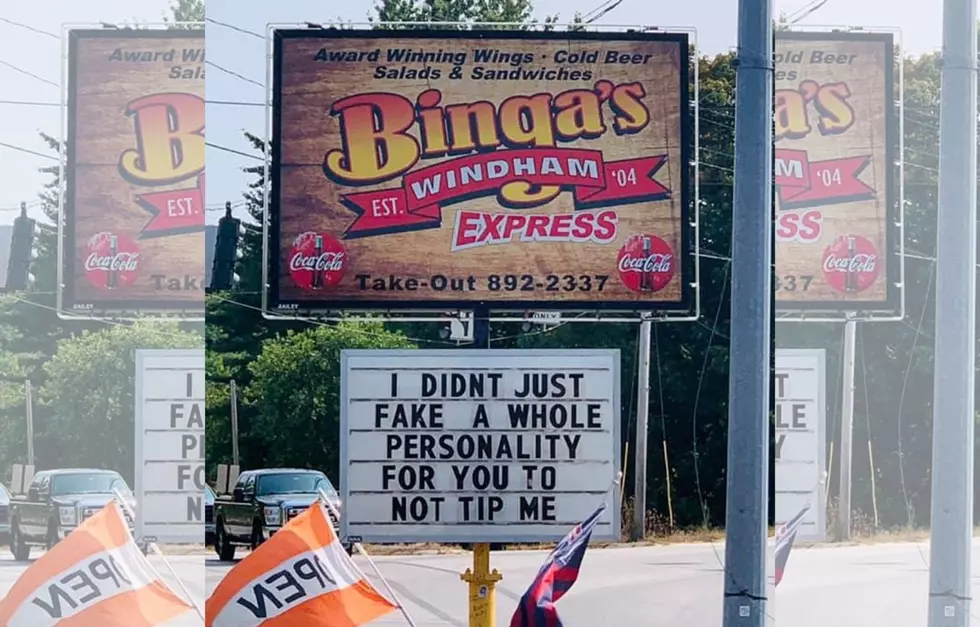 Binga's Windham Understands That #ServerLife In Updated Sign
Bingas Windham via Facebook
Binga's Windham does it again with their witty sign.
As a former server, I know what it's like to be on your A-game. Schmoozing with guests, bringing out drinks, apps, and meals in a timely manner, being attentive, friendly, and dancing (not that kind of dancing, no judgment, but I worked for Texas Roadhouse. Yee to the ha!) and then you pick up the slip and...
Minimal or no tip. Talk about a buzzkill.
Waiting tables is an art form. It's busy, sometimes hectic, and at the core, it's customer service. Anyone who has worked in customer service knows the importance of pleasing the person in front of you or on the phone with you. When waiting tables this could be 1 person to a dozen or so. You're pulled in all directions. It doesn't matter what stressors you have burdening you. You have got to put on a show so Chad and Karen won't write a poor Yelp! review, ask for the manager or leave you one of those sad, sad tips.
That kind of performance, that could last for a double shift, can be exhausting. When it comes time for the curtain call and there's no applause, it can really take the wind out of your sails.
That's why Binga's gets it.
I understand that tipping can be a controversial topic, but personally, I get it and I'm happy to tip for a job well done. Honestly, even for a job not so well done, but that's just me.
Enter your number to get our free mobile app
The 10 Best Places in Maine to Get a Pizza