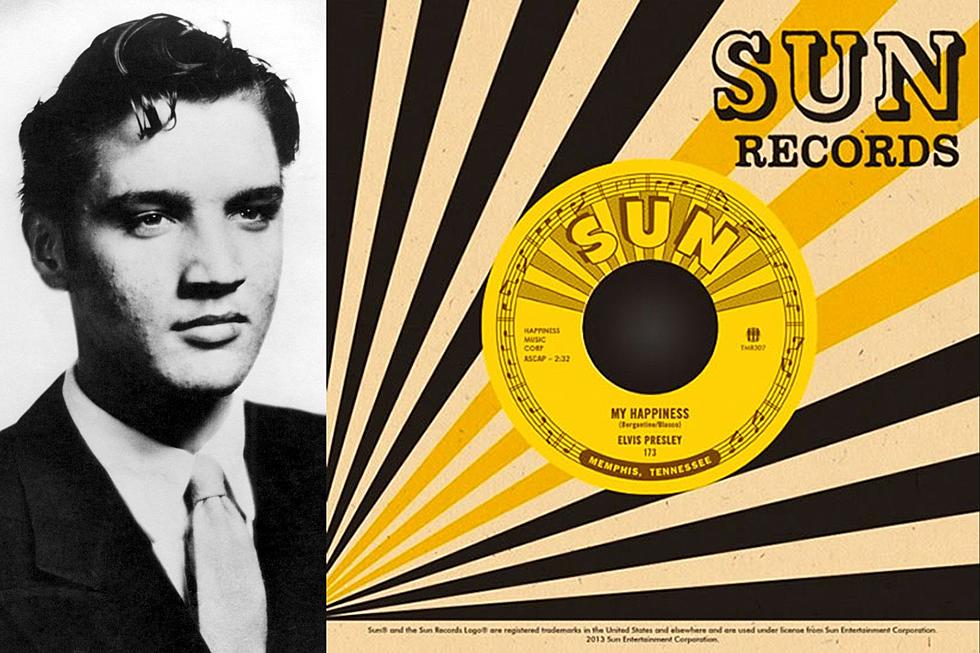 70 Years Ago: Elvis Presley Launches Recording Career for $4
RB, Redferns / Sun Records
One of the most remarkable careers in music history got off to an inauspicious start on July 18, 1953, when an 18-year-old Elvis Presley walked into the Memphis Recording Service to cut his first demo.
Memphis Recording Service shared a building with Sun Records, the independent label that Sam Phillips founded in 1952 to record R&B, country and, eventually, rock 'n' roll artists. Phillips had previously licensed his recordings to other labels, such as Chicago's Chess Records and Los Angeles' Modern Records, but when his relationships with those companies soured, he launched his label out of necessity.
Presley walked into the Memphis Recording Service and shelled out approximately $4 to record two songs on an acetate disc. For the A-side, he chose the pop music standard "My Happiness," popularized by Jon and Sondra Steele in 1948. For the B-side, he recorded "That's When Your Heartaches Begin," which became a hit for the vocal group the Ink Spots in 1941.
Some accounts claim that Presley wanted to make a record to give to his mother, Gladys Presley, as a birthday present. But it would have been a late gift, as Gladys' birthday was April 25. (It also would have been a bad gift, as Presley's family didn't own a record player at the time.) It's more likely that Presley, then less than two months out of high school, paid for his studio time with the hopes of being noticed and plucked out of obscurity by Phillips.
Listen to Elvis Presley's 'My Happiness'
Yet it wasn't Phillips who initially worked with Presley. That honor went to his assistant, Marion Keisker, who was reportedly running the studio alone on that fateful day. Keisker's exchange with the future star has since become the stuff of legend.
"It was a busy Saturday afternoon," Keisker told Q magazine in 2000. "The office was full of people wanting to make personal records. He came in, said he wanted to make a record. I told him he'd have to wait and he said OK. He sat down. While he was waiting, we had a conversation. He said he was a singer. I said, 'What kind of singer are you?' He said, 'I sing all kinds.' I said, 'Who do you sound like?' He said, 'I don't sound like nobody.'"
Presley recorded his two songs to little fanfare and went on his way. "After he'd sung his song, for which we charge $4 for recording, we said maybe we'd call him over sometime to cut a commercial disc," said Phillips' brother and Sun Records co-founder Jud Phillips. "He didn't seem too enthusiastic, but I think that was because he wasn't at all sure of his own ability."
Listen to Elvis Presley's 'That's When Your Heartaches Begin'
The singer returned to Sun Records in January 1954 to cut another two-song acetate disc — "I'll Never Stand in Your Way" and "It Wouldn't Be the Same Without You" — which once again failed to turn heads. Several months later, Phillips called him back to record a ballad called "Without You" that he thought would suit Presley. It didn't work out, but the frustrating sessions eventually yielded Presley's debut single, a cover of Arthur Crudup's "That's All Right," kick-starting the singer's career and an entire genre.
In the wake of Presley's groundbreaking success, his debut recording became a highly sought-after piece of rock 'n' roll memorabilia. The record sold for $300,000 at a Graceland auction on Jan. 8, 2015, which would have been the King's 80th birthday.
Final Songs Performed Live by Rock's Biggest Artists
Some knew it was goodbye, some didn't.