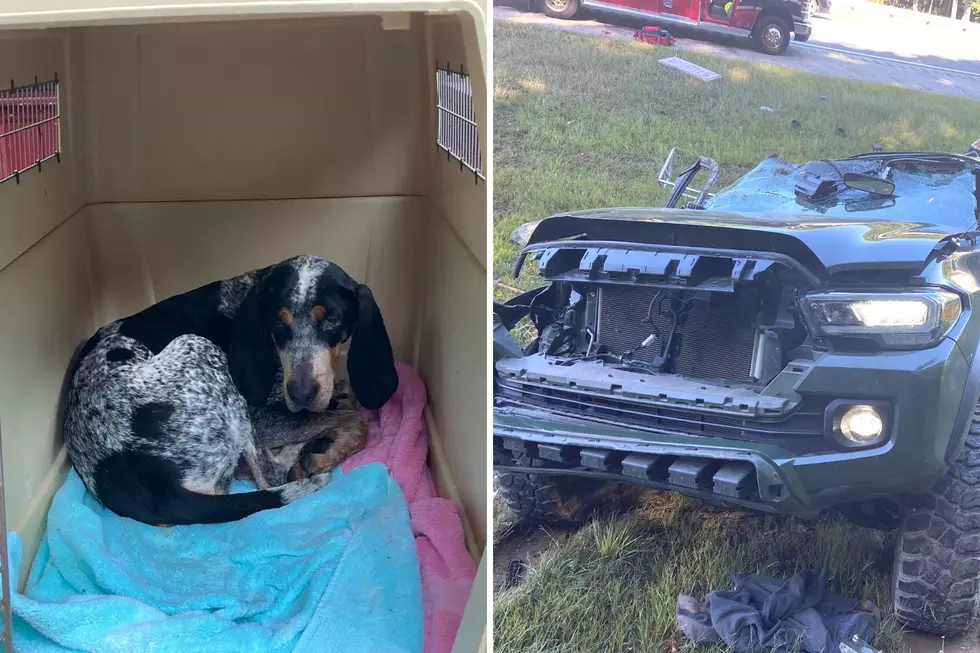 Runaway Dog From Maine Turnpike Crash Found by Trooper
Whiskey after being found (Ogunquit Fire Department) pickup involved in Maine Turnpike crash (Maine State Police)
The last of the hunting dogs that ran from a crash scene on the Maine Turnpike was found safe in the woods along the highway on Saturday night.
Ten beagle hunting dogs were in a cage in the back of a 2021 Toyota Tacoma pickup Wednesday morning heading northbound when driver William Funkhouser, 38, of Baker, West Virginia, fell asleep at the wheel, according to Maine State Police.  The Tacoma swerved into the path of a tractor truck and went off the road, opening the cage.
The dogs all ran from the scene while passenger Jonah Hose, 23, Funkhouser's cousin also of Baker, was ejected.
One dog died as a result, and the other nine found along Route 1 in Ogunquit and Wells. The missing dog named Whiskey was found on Saturday night by a Maine State Police trooper.
Two Eyes Shining Back at Trooper
Maine State Police spokeswoman Shannon Moss said two calls were received Saturday evening about a dog along the northbound interstate south of the original crash scene in York. Trooper Matthew Williams was sent to investigate the sighting, and eventually noticed a couple of eyes shining back at him from the woods.
"Trooper Williams stopped his cruiser and was able to see Whiskey's head through the tall grass. Whiskey began howling at Trooper Williams," Moss said in a statement.
Whiskey looked weak but did not appear to be injured, according to Moss. Ogunquit Fire Chief Russell Osgood said Whiskey was in the care of the town's Animal Control Officer and would be reunited with Funkhouser on Sunday.
Osgood said there were several sightings of Whiskey in the past several days, including a report that someone let him into a car.
GoFundMe for Injured Passenger
Passenger Hose continues to recover from his injuries at Portsmouth Regional Hospital, and was in serious but stable condition at last check by police, according to Moss.
Funkhouser created a GoFundMe page to help his cousin with recovery expenses.
"Jonah has a very long road ahead of him, along with animal care. Let's please help ease the cost. A little goes a long ways. God bless everyone in advance," Funkhouser wrote.
No Charges for Driver
Moss said that there will be no charges against Funkhouser, as the dogs were being transported legally.
"The large stainless steel crate the dogs were in is similar to what you see on an animal control truck. The dogs were being transported properly," Moss told Seacoast Current.
Previous reporting by Jeff Parsons was used in this report.

Contact reporter Dan Alexander at Dan.Alexander@townsquaremedia.com or via Twitter @DanAlexanderNH
Trending Stories for Seacoast Current (August 22-28, 2022)