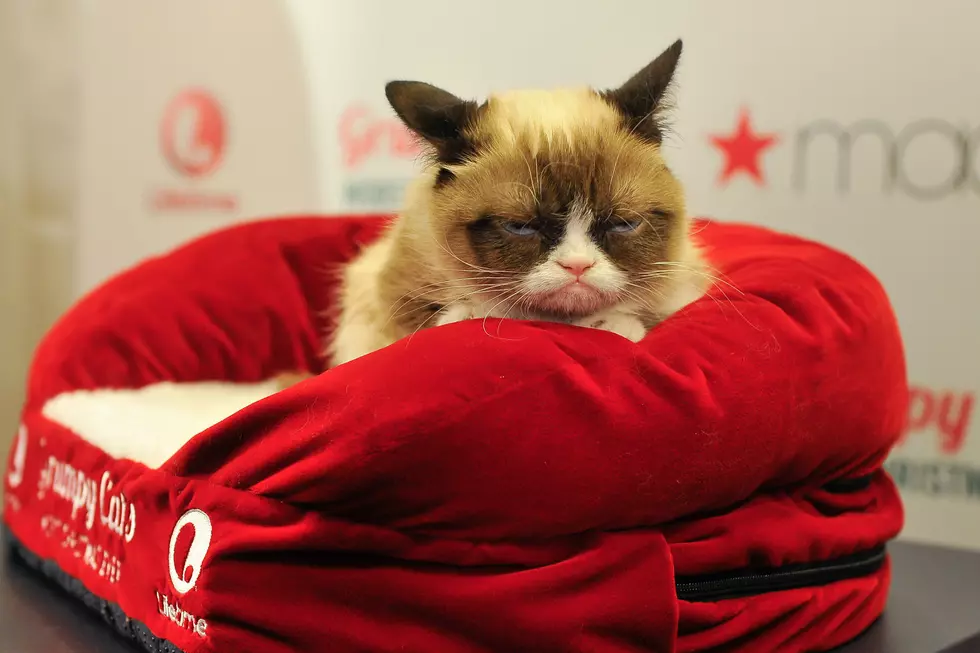 Kitty Superstar Grumpy Cat Has Passed Away
Getty Images
It is with great sadness that we announce the passing of a cultural icon whose image was available for purchase on everything from greeting cards to cosplay costumes. According to CNN, last week Grumpy Cat passed away at the age of 7 due to complications from a urinary tract infection.
Grumpy Cat was the stage name of Tardar Sauce, a kitty that had feline dwarfism and a disgruntled mug that struck a chord in millions of fans. Her dreary expression brought joy to many. And I do mean many. At the time of her passing Grumpy Cat had 1.5 million followers on Twitter, 8.5 million on Facebook and 2.4 million on Instagram.
Her owner was Tabatha Bundesen of Arizona. It was Tabatha's brother who posted the first picture of Tardar Sauce in 2012. People went wild for her and gave her the nickname of Grumpy Cat. The family battled back rumours of the picture being photoshopped by posting video clips of the kitty to YouTube. A star was born.
Grumpy Cat had people standing in line for hours to take pictures with her at the South by Southwest Interactive festival in Austin, Texas. She mostly ignored her fans.
The kitty previously known as Tardar Sauce was found on products such as Sketchers shoes, perfumes, calendars and coffee mugs among many others. She made bored appearances on Good Morning America and the Today Show.
Grumpy Cat even had a wax figure in Madame Tussauds wax museum in London.