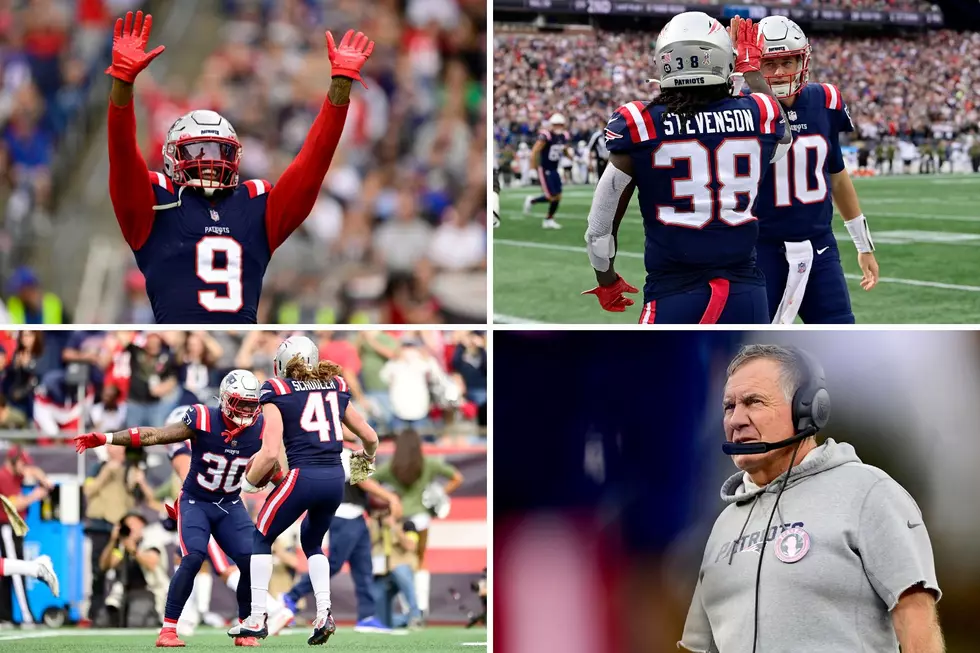 Look: 50 Photos of the New England Patriots' Dominating Defensive Win Over the Indianapolis Colts
Getty Images: Canva
A dynamic defensive performance was the story for the New England Patriots on Sunday. Foxborough's finest took down the Indianapolis Colts 26-3.
New England's defense absolutely harassed Colt quarterback Sam Ehlinger from the opening kick until the final whistle. The defense finished with nine sacks, a Jonathan Jones pick six, and held the Colts to a combined 0 for 16 on 3rd and 4th down.
New England's Special Teams also deserve serious mention, considering the most impactful play of the game came from a punt. Or maybe I should say it came from a punt block. Jonathan Jones' 2nd quarter punt block led to the only offensive touchdown of the game.
That touchdown was a Mac Jones throw to Rhamondre Stevenson. It was a great catch by Stevenson, who was probably the lone star on offense. Stevenson battled all game long, picking up 70 yards of total offense to go along with the touchdown.
As for Mac, it was a struggle. The Patriots' signal caller had just 147 yards through the air with the lone touchdown. He certainly was not helped out by his offensive line. Indy's defense dominated the front, which truly kept the Colts in the game. Mac was hits seven times, with four of them being sacks.
Thankfully, the defense and special teams were more than enough for the Patriots to finally get over .500 this season. New England has a 5-4 record and head into the bye week.
The Patriots now have two weeks to prepare for a rematch against the hated rival, New York Jets. It was quite a win for New England the last time these two squared off.
But that's not for two weeks. For now, it's time to enjoy another win over the Colts. You can find many images below from the game.
New England Patriots vs. Indianapolis Colts Week 9
Images from the Patriots 26-3 win over the Indianapolis Colts
30 Rock Stars and the Sports They Love
A look at rock stars who have a passion for sports.