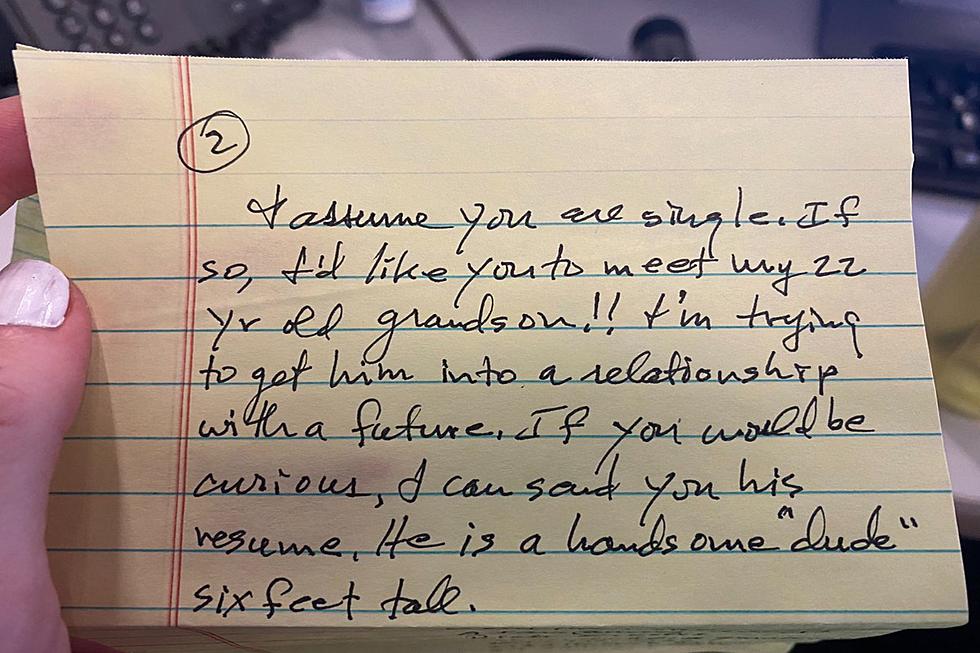 Man Pens Handwritten Note To Maine News Anchor Asking Her To Date His Grandson
Twitter via Allison Ross
It's almost a certainty that you've got at least one friend in your life that is sick and tired of dating. Whether it be friends of a friend, dating apps or sites or just that old college flame who came back again, the struggle can be real. So when you're single and looking to avoid all of those options, what is there left to do? Perhaps ask your grandfather to pen a letter to the news anchor you find attractive and see if you gain any traction? Sounds crazy but it happened.
Shared on Twitter, Allison Ross is an anchor for WMTW in Maine. Just a few days ago, she received a handwritten note from a grandfather seeking to set his "handsome dude" of a grandson up with the news reporter. The grandfather even offered up his grandson's resume in the event Ross was remotely interested in a face-to-face meeting. Forget Tinder or Bumble, this could be the way of the future.
Ross did comment in her tweet that the effort given here was "phenomenal". So far, she hasn't updated the inquiring minds on social media as to whether she's accepted the blind date offer. She did slyly comment in the Twitter thread that perhaps the grandfather assumed she was single because she doesn't have a ring on her finger.
This brings back memories of the most legendary "dating" attempt in Maine history. An old newspaper personal from 1865 has been a viral hit on the internet for years, where a young man from the county was desperately searching for a "spinster".
KEEP READING: Here are the most popular baby names in every state
Using March 2019 data from the
Social Security Administration
,
Stacker
compiled a list of the most popular names in each of the 50 states and Washington D.C., according to their 2018 SSA rankings. The top five boy names and top five girl names are listed for each state, as well as the number of babies born in 2018 with that name. Historically common names like Michael only made the top five in three states, while the less common name Harper ranks in the top five for 22 states.
Curious what names are trending in your home state? Keep reading to see if your name made the top five -- or to find inspiration for naming your baby.
Maine's 16 Counties Ranked By How Much Money People Make
Here's the list of every county in Maine ranked by median household income from lowest to highest.