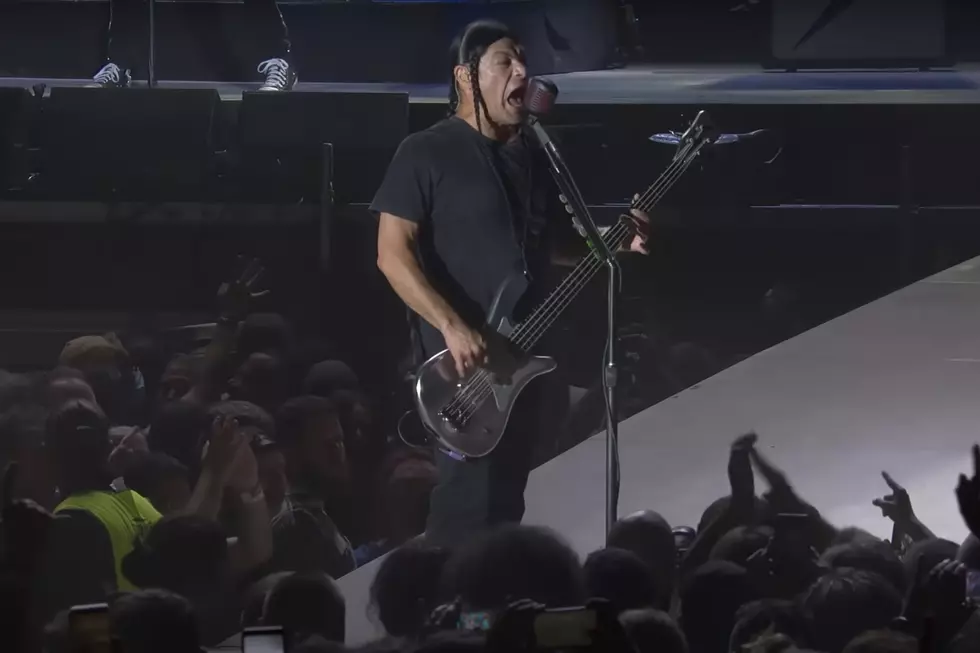 'Scanning the Scene': Metallica Release Live Performance of 'Seek & Destroy' in Belgium
Metallica via YouTube
Metallica have been playing "Seek & Destroy" live since they debuted it at The Concert Factory in Costa Mesa, Calif., on June 3, 1982. Over the last four decades, it's become one of their most popular songs to perform live and, as of right now, they've included it in more than 1,600 setlists.
From the iconic guitar riff to the fan-favorite lyrics, "We're scanning the scene in the city tonight," "Seek & Destroy" rocks hard every single time Metallica pull it out onstage. Case in point, check out Metallica's recent performance of the Kill 'Em All track at Rock Werchter in Werchter, Belgium, on July 1, in the video below.
Watch Metallica Perform "Seek & Destroy" Live in Belgium
"The idea for ["Seek & Destroy"] came from a Diamond Head song called "Dead Reckoning,"" James Hetfield explained to Guitar World in 2009. "I sued to work in a sticker factory in L.A., and I wrote that riff in my truck outside work."
When Metallica entered the studio to record Kill 'Em All, that was their first time with real, professional recording time together. In that same Guitar World conversation, Kirk Hammett recalled, "I had maybe four or five days to do all my leads. I remember thinking, 'There's 10 or 12 songs on this album, so that means two a day.' I had to throw down a solo, not think much about it, and move on."
He added about his "Seek & Destroy" solo,
There were no frills, no contemplation, no over-intellectualizing—we weren't going over the finer points. On a couple of notes in that solo, I bend the notes out of pitch. For 18 years, every time I've heard that guitar solo, those sour notes come back to haunt me!
Listen to the Kill 'Em All Recording of "Seek & Destroy"
Metallica's full set in Werchter, Belgium, can be streamed and downloaded at LiveMetallica.com and nugs.net.
Some of Our Favorite Live Photos of James Hetfield
Covering nearly 20 years of performances, the below photos display why James Hetfield is one of the best frontmen in rock and roll.
Each shot shows his raw energy, intensity and overall fun spirit at Metallica's live shows. If a photo is worth a thousand words, we know these shots are worth thousands of Hetfield's growls.
Here Are Some of Our Favorite Metallica T-Shirts
Metallica have not only created some of the best heavy metal in the last 40 years, they've also created some of the most iconic T-shirts. In the last four decades, they've worked with incredible artists like Pushead, Brian Ewing and others to bring their songs and albums to life. In the gallery below, we've picked out some of our favorite T-shirts that are currently available at Metallica's official online store. Which one is your favorite?