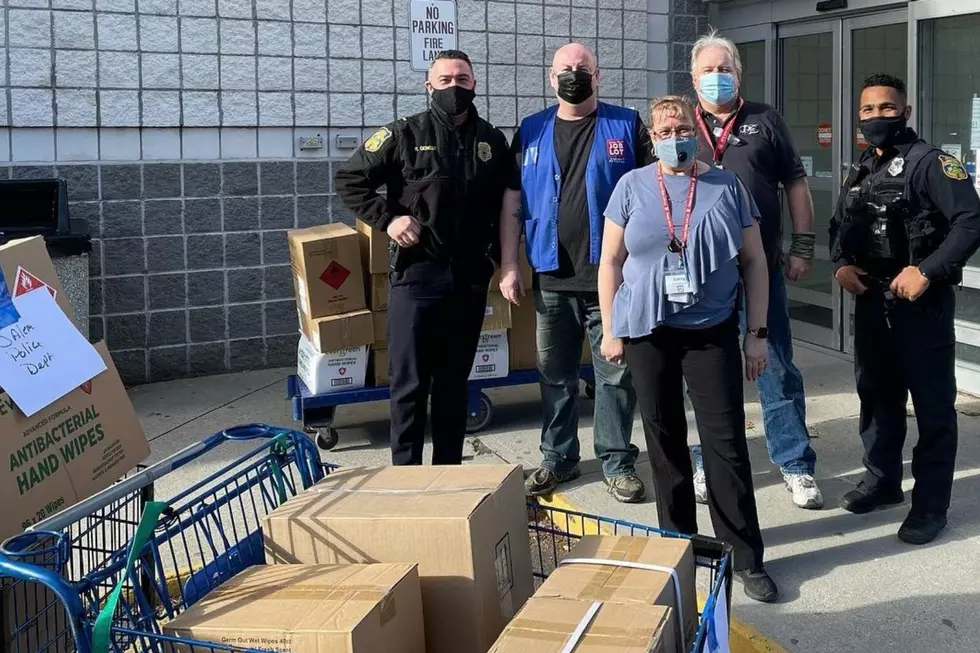 Ocean State Job Lot Donates PPE to Maine, New Hampshire Police and Fire Departments
Salem NH Police Dept via Facebook
When the pandemic first started, we heard nonstop about how in short supply PPE (personal protective equipment) was. Doctors, nurses, and anyone in the medical field have always used fresh PPE with new patients so as not to cross-contaminate patients with germs, etc.
But with the pandemic, PPE has been in such short supply that there have been plenty of stories of medical personnel having to re-use PPE so they can keep themselves as safe as possible, too.
One thing we haven't talked about in a while, though, or heard about in a while, is PPE. And I feel like we tend to believe (or maybe I'm just speaking for myself when I say this) that when we aren't constantly hearing about something that we used to be, then that problem is solved. (Actually, that literally could just be a me thing, now that I think about it -- file it under "wishful thinking.")
According to healthline.com, though, PPE is still in short supply and the need is still very high and very much there. Thankfully, organizations like Ocean State Job Lot are there to help anyone out they can with PPE donations. According to the Ocean State Job Lot (Salem, New Hampshire) page, the Ocean State Job Lot Charitable Foundation made another round of PPE donation deliveries to police and fire departments in the communities where they have a store.
That means that police and fire departments in various cities/communities in Maine, New Hampshire, Massachusetts, and Vermont (basically, all over New England) received PPE. About $6,000 worth, too -- all of the good stuff! N95 masks, face shields, and of course the ole go-to that's become an everyday item for us these days (hopefully, unless you're a nasty), hand sanitizer and disinfectant wipes.
Look, I'll be honest, and it's nothing against OSJL or anything, it's just factual -- I don't shop their stores a lot. Actually, I don't even know if I've ever been in one other than going once or twice around the holidays for batteries for lights we were hanging around the house. I WILL say though, the couple of times I've gone have been a great experience. Plus, they had Cherry Coke in the fridge at the check out line and I'm a SUCKER for Cherry Coke or Cherry Pepsi, so they won me over easily with that.
But real talk -- knowing that they do something like this. Looking out for and helping to protect our first responders that help protect us day in and day out, 24/7/365 -- this makes me want to go in their establishments and support them even more.
Good on ya, Ocean State Job Lot! Thanks for all you're doing! And an obvious thank you to the first responders and everyone on the front line, as well!
CHECK IT OUT: 10 Items Might Be in Short Supply This Winter