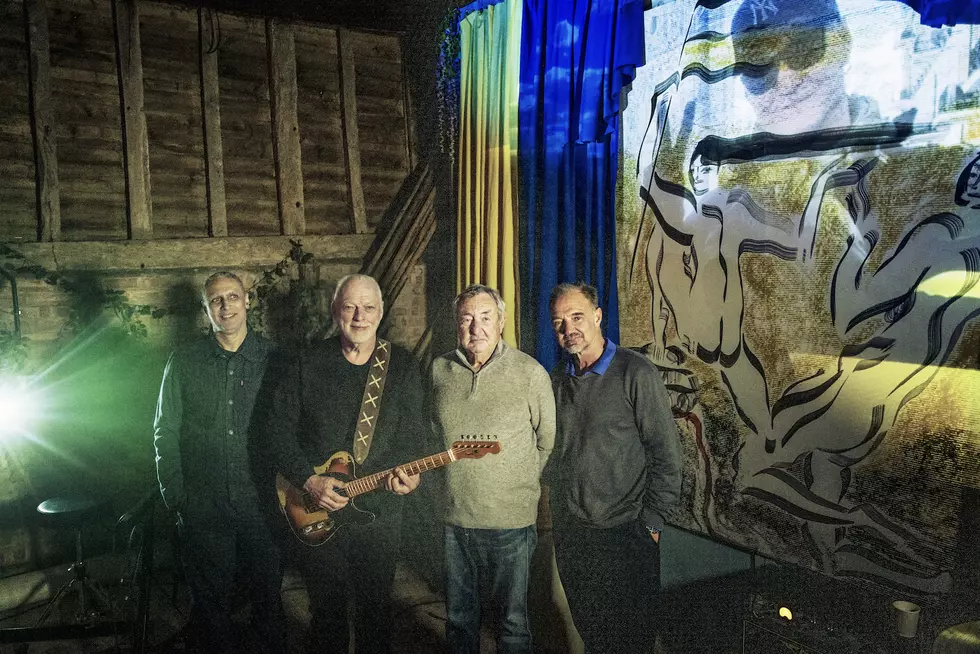 Listen to Pink Floyd's New Song 'Hey Hey Rise Up' for Ukraine
Pink Floyd
Pink Floyd have released a new song in support of the people of Ukraine titled "Hey Hey Rise Up." You can listen below.
The new song features Pink Floyd mainstays David Gilmour and Nick Mason, as well as bassist Guy Pratt and keyboardist Nitin Sawhney. Andriy Khlyvnyuk of the Ukrainian band Boombox contributes vocals.
"Hey Hey Rise Up" marks the first new original music Pink Floyd have recorded together since their 1994 album The Division Bell. (The largely instrumental 2014 LP The Endless River featured music recorded during The Division Bell sessions.)  The band recorded the song on March 30 and pulled Khlyvnyuk's vocals from an Instagram post of him singing in Kyiv's Sofiyskaya Square.
The song title is inspired by the lyrics to "The Red Viburnum in the Meadow," a Ukrainian protest song written during World War I, which Khlyvnyuk was singing in the video. The last line of the song translates to "Hey, hey, rise up and rejoice."
Gilmour, who has a Ukrainian daughter-in-law and grandchildren, said in a statement, "We, like so many, have been feeling the fury and the frustration of this vile act of an independent, peaceful democratic country being invaded and having its people murdered by one of the world's major powers."
Gilmour first became aware of Khlyvnyuk in 2015, when he played a show in London in support of the Belarus Free Theatre, an underground theater group whose members often risk persecution. Boombox were scheduled to play that night, but Khlyvnyuk couldn't make the show due to visa problems, so the rest of Boombox backed Gilmour for his set and dedicated "Wish You Were Here" to him.
"Recently I read that Andriy had left his American tour with Boombox, had gone back to Ukraine and joined up with the Territorial Defense," Gilmour explained. "Then I saw this incredible video on Instagram, where he stands in a square in Kyiv with this beautiful gold-domed church and sings in the silence of a city with no traffic or background noise because of the war. It was a powerful moment that made me want to put it to music."
Gilmour is one of several rockers who has publicly reacted to the war in Ukraine, along with Stevie Nicks, Brian May, David Coverdale and many more.
Top 50 Progressive Rock Albums
From 'The Lamb' to 'Octopus' to 'The Snow Goose' — the best LPs that dream beyond 4/4.
When Alice Cooper Got Stoned with Pink Floyd