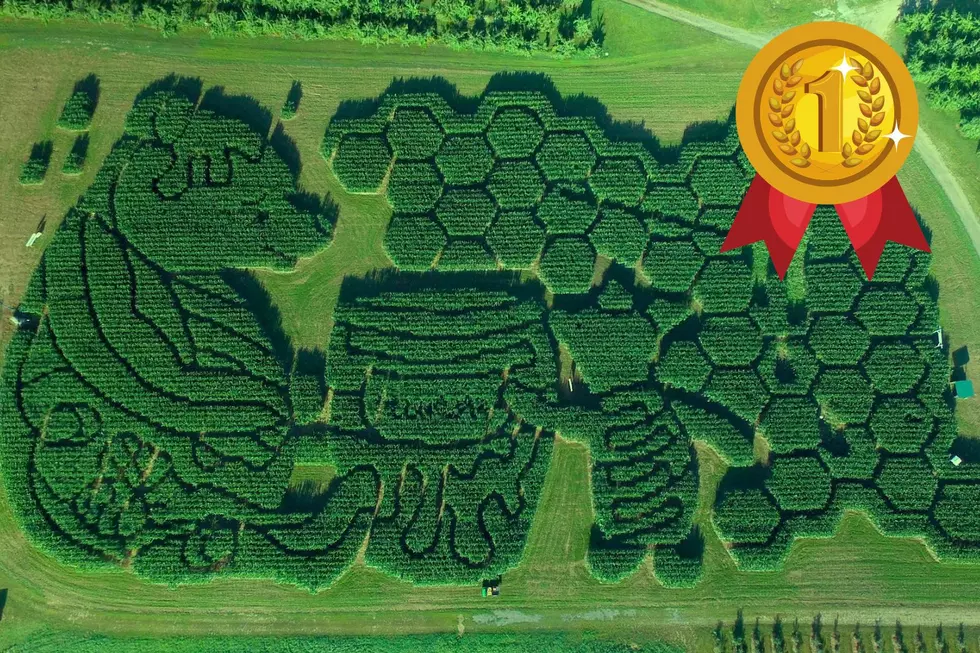 This Maine Corn Maze was Rated #1 in the Country by USA Today – Worth a Road Trip From Massachusetts or New Hampshire
Treworgy Family Orchard via Facebook, Canva
After being nominated for the title of Best Corn Maze in the Country five years in a row... the Treworgy Family Orchard corn maze has finally claimed the number one spot by USA Today, according to an ABC article.
First and foremost, congratulations to Treworgy Family Orchard! Last year they claimed second place. That was not good enough for the family farm.
The farm came back for vengeance and something sweet for 2022.
Honey!
The theme of the corn maze in Levant, Maine was Winnie the Poo They crushed it.
Check out the areal view of the epic maze.
I think this goes without saying, but if you are within a three hour drive...you have to go to this corn maze.
From Massachusetts to New Hampshire, if this is feasible in a day, you have to go. I absolutely plan on getting up to Levant, ME for this because it is a once  in a lifetime thing.
Treworgy always delivers an incredible corn maze, but to do the number one corn maze in the country feels a bit more challenging.
I was thoroughly impressed when I saw that other competitors and entries were from around the country. No, it is not just the northeast that participates in corn mazes in the fall.
Last year, the winning maze was Devine's Corn Maze & Pumpkin Patch in Harrodsburg, Kentucky, according to the USA Today 10 Best article. Other winners were in Indiana, Ohio, Utah, the Carolinas, and elsewhere.
But not this year.
This year's super cool, and sweet with honey, corn maze that holds the #1 slot comes from Maine.
"We're just really grateful. It's our fans who were on there voting every day for us, so we're really excited," co-owner Jon Kenerson said in an ABC article. "We were close; we were between first and second the whole contest, so we were hoping, but it wasn't guaranteed."
Congratulations and way to represent New England.
Maine House for Sale Is Like a Magical Rustic Castle Overlooking the Water
This house for sale in Brooklin, Maine, is located at 158 High Head Dr, Brooklin, ME 04616. The home is listed by Jill Knowles of The Christopher Group.
Check the listing here.
Here Are 30 of the Best Places for Breakfast in Maine
These are the best spots across the state to grab the best grub in the morning.