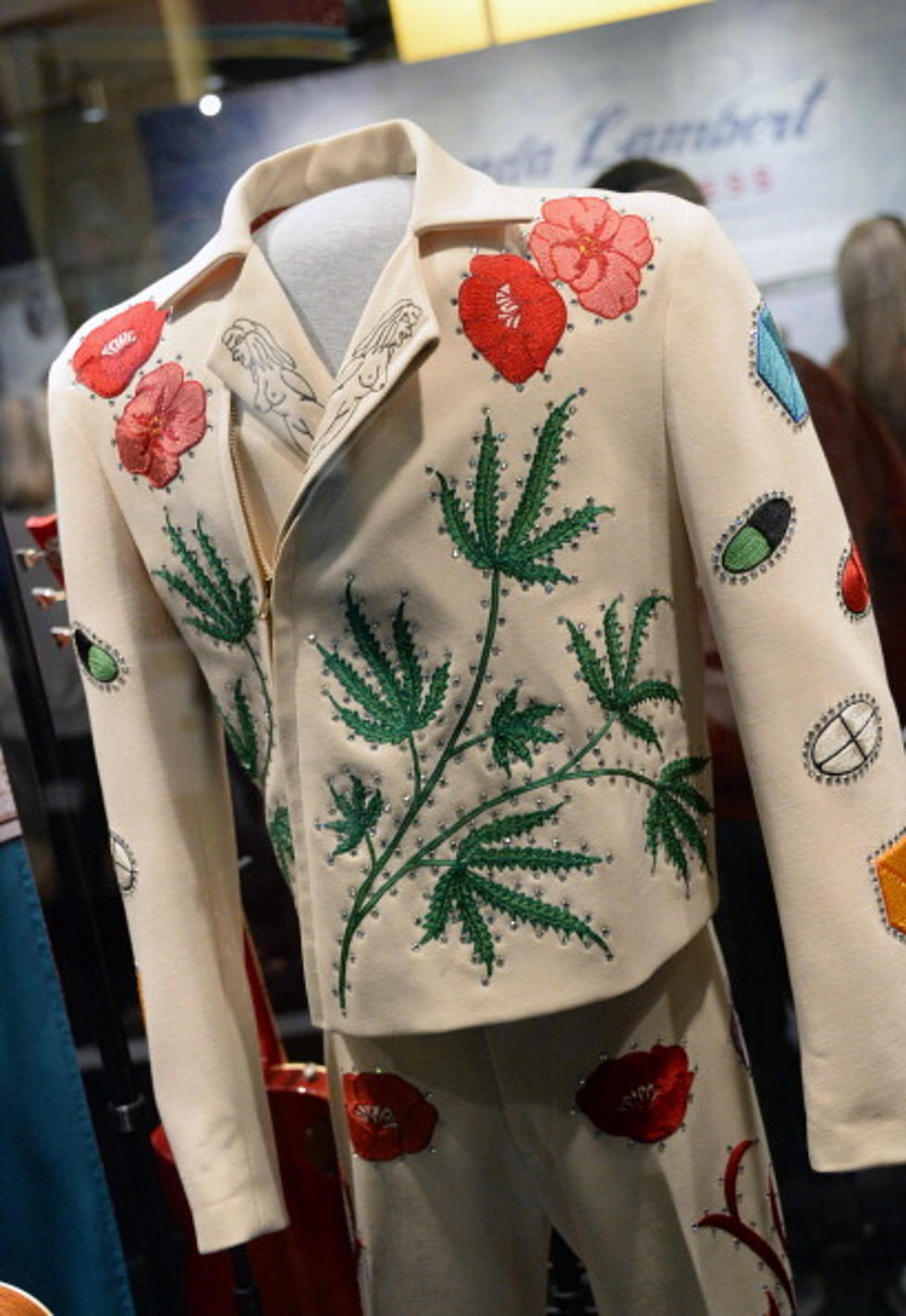 Today's The First Time We Ever Heard "Elvis Has Left The Building", Plus…
The "Recording Gram Parsons Exhibit", part of the Country Music Hall of Fame and Museum in Nashville. (May, 2014; Photo: Rick Diamond/Getty Images)
11/5/1971 (49 years ago today) - It's the opening night of Elvis Presley's 15-date North American tour at the Metropolitan Sports Center in Minneapolis --  In-house arena announcer Al Dvorin is asked to make an announcement at the end of the show in an effort to quiet the fans who are yelling out for an encore. Al steps up to the mic and says: "Elvis has left the building." Simplicity defined.
11/5/2005 (15 years ago today) - Influential 1950's rock 'n' roll guitar-man Link Wray passed away, aged 76 -- Wray was pretty much credited with creating the "fuzz guitar sound" after punching a hole in the speaker giving him a fantastic distortion effect. Most notably, in 1958, his dramatic instrumental "Rumble" was banned from airplay on hundreds of radio stations on the grounds that it glorified juvenile delinquency. An incredibly rare achievement for a song with no lyrics; it never even cracked the Top 10, stalling out at No. 16. We say that's pretty friggin' cool, scaring the establishment by sayin' nuthin'. Wicked!
11/5/1946 - Born on this day, singer-songwriter-guitarist Gram Parsons; member of The International Submarine Band, The Byrds and The Flying Burrito Brothers, his 1973 solo album, "Grevious Angel" turned out to be a milestone, a genuine stylistic turning point for American songwriters -- Without question, Gram was one of the most influential artists of his era, the first to successfully blend country with rock to the point that they became indistinguishable from each other which, actually, was quite remarkable for 46 years ago. He was just 26 when he died from a heroin overdose, September 19, 1973.
Share your collection of passwords with the Calendar here on our web site and on the WBLM Facebook and Twitter pages with the hashtag #TommysCoffeeBreak.
"I remembered something you once told me/And I'll be damned if it did not come true...", xoxo!