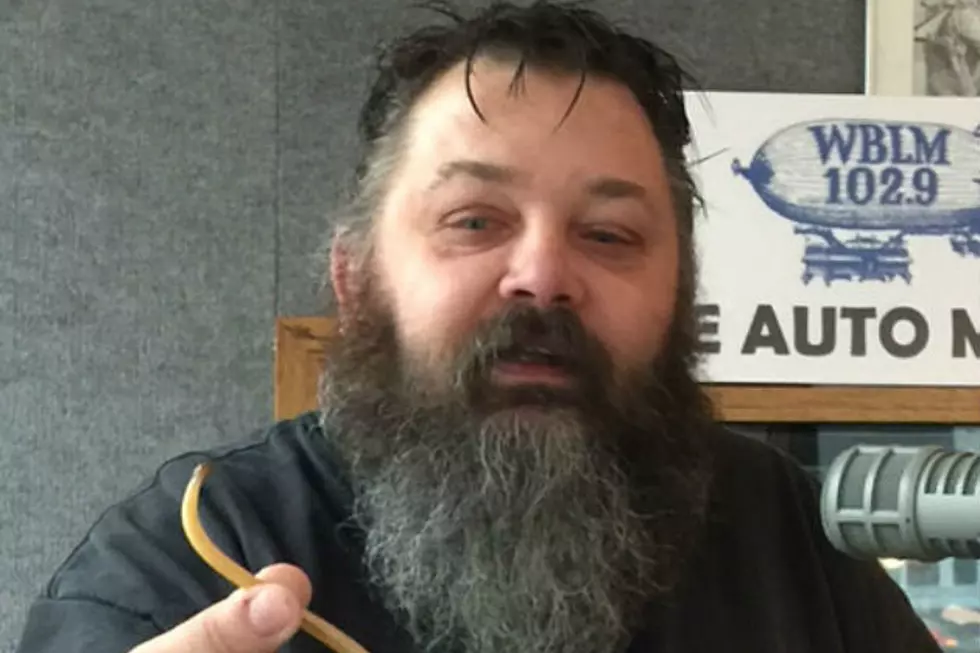 WBLM's Most Eccentric Listener, Handsome Dan, is Battling Cancer. Come to His Funky Fundraiser!
WBLM.com
You may remember Handsome Dan from a WBLM Morning Show Contest that we did a couple years back, he goes down in the books as our most eccentric listener and we adore him. He's battling cancer and could use our help. Here's a post that I did after our visit with him to jog your memory:
Captain and I did a round of "Tradio" for Motley Crue tickets and this brought a gentleman named "Handsome Dan" into our orbit. Here he is holding a petrified raccoon penis. Yup. Uh huh. He just pulled it out of his pocket like it was his car keys or a lucky charm.
This is what he originally came into the studio to share with us. His great grandmother, Cora's, wooden leg. He was offering it up as trade for Motley Crue tickets, but when we realized how much it meant to him, we couldn't accept it. We gave him the tix and he came in for a visit with Cora's leg!
Wow! She's still wearing her shoe and stockings from the 1930's! I make mannequins into lamps, so I examined the leg for the possibility of making it a floor lamp. When it came down to it, I decided not to disturb it. Handsome Dan even had Cora escort him to the Crue show! Did I mention that he's eccentric? Dan is a glowing example of why we love our listeners so much!
As if things couldn't get weirder, Dan texted me on his way home from doing the BLM morning show. He stopped by a friend's house as he was passing through and he was gifted with this!
A male companion for Cora!
This is one of my mannequin head lamps. I sold her to a woman in Madrid, Spain through my Etsy shop. She's not just a pretty face, she's got bright ideas as well.
Thank you, Dan for sharing a true piece of your family history with us!
That penis wasn't just scared, it was petrified. Poor raccoon.
Sadly, Dan has cancer, and we want to get the word out about a fundraiser happening for him. His family sent us this announcement:
"Help Dan Young
Kick Cancer's Ass!
A FUNERAL THEMED PARTY
BECAUSE WE LAUGH IN THE FACE OF DEATH
FOR DAN ON SUNDAY NOVEMBER 19TH, 12PM TO 4PM
CHAPS SALOON 1301 LONG PLAINS ROAD, BUXTON, ME
Chemo has made it hard to feel up to working full time.
We are selling raffle tickets. $5 each for a chance to win $500 cash! Drawing on Sunday November 19th, winner need not be present, just put your phone number on the ticket stub.
We are also collecting raffle items, of any sort, for the party. Goods, services, craft items, gift cards, etc. We appreciate any, and all help!
Of course, we would love for you to attend the party! Please wear black, like a good mourner, and bring a flower for the casket! Let's show Dan our support, and help him through this rough time."
It sounds like a true Handsome Dan party to me! Help out a fellow listener if you can and join the morose good time going down on November 19th at Chaps Saloon.