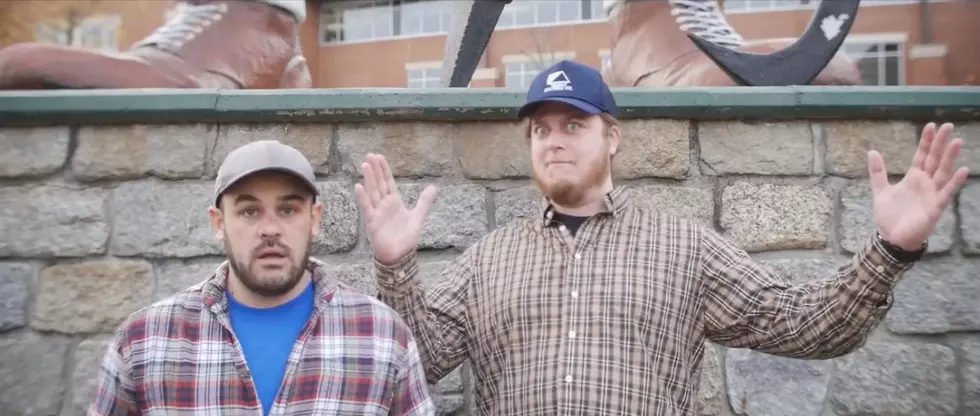 'Welcome To Maine' Dubs Troy And Mark Are Back With Paul Bunyan
Welcome To Maine via Facebook
Of course we refer to Troy and Mark as dubs with nothing but the most heartfelt affection. We love them because after all, most us are them.
Like John Lennon sings in the Beatles song I Am the Walrus,
"I am he as you are he as you are me and we are all together."
Yessuh. Just a bunch a dubs all together in the best damn state evah.
With 2020 being the year of the Maine Bicentennial, it's an awful good idea to brush up on some of our knowledge of the magnificent people places and things that make our state the best.
Our favorite way to learn about something is with some laughs.
That is what we are about to do with the latest installment in the 'Welcome to Maine' video series.
Troy and Mark are here with episode 5 that takes us upta Bangor to visit the monument of Maine's most famous lumberjack, Paul Bunyan.
This need to be the official video campaign for the Maine Office of Tourism. We hope the officials in Augusta are paying attention.
Future destinations that 'Troy' and 'Mark' plan on visiting include, The Lobster Pound, LL Bean and more of the great places that call Maine home.
Ian Stuart and James Theberge have performed together around the state in The Maine Comedy All Stars shows.
The series is written, directed and edited by Ian. Our monster hunting buddy Bill Brock is behind the camera.
Ian and James can be found performing live stand up comedy for social distanced audiences at Stroudwater Distillery on Thompson's Point in Portland. The shows are on Thursdays at 7pm.
10 Maine and New Hampshire Spots You Have to Visit