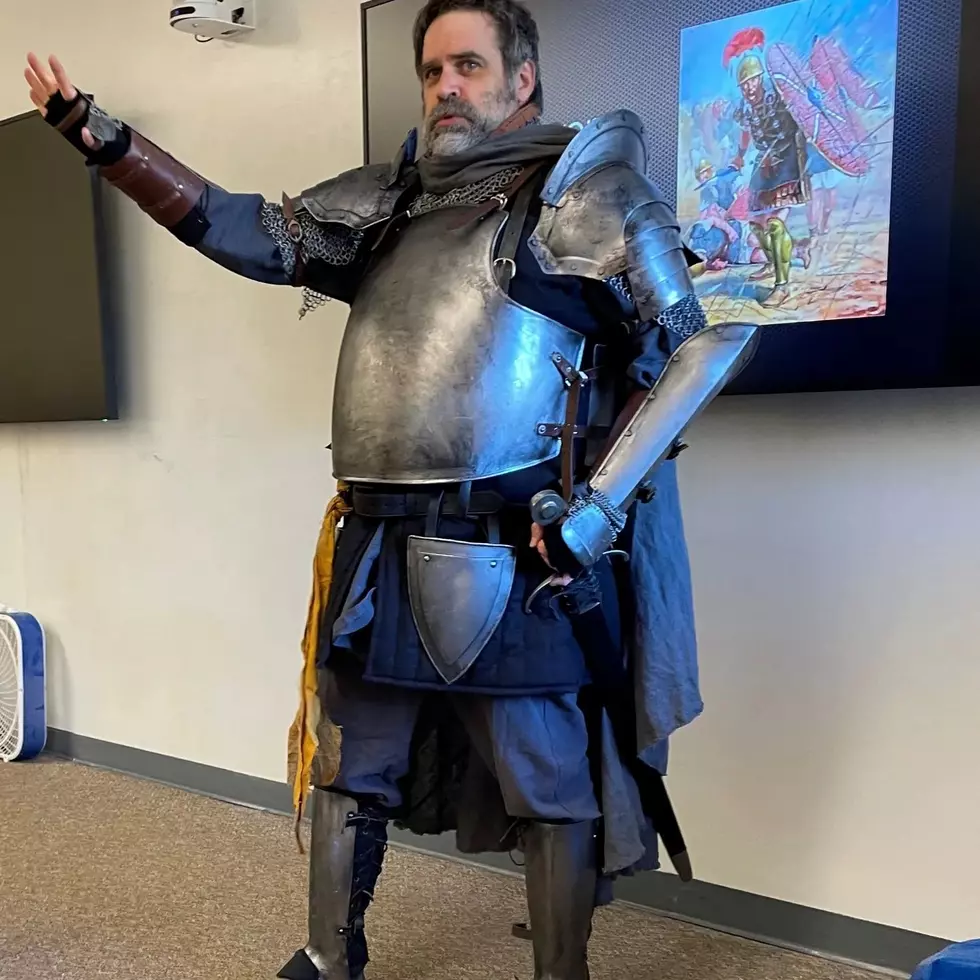 Why This Maine Professor Wore Full Battle Armor to Teach His Class
Facebook/University of Maine at Machias
While teaching at my alma mater, Emerson College, there have been just a couple days (particularly during midterms) where I've felt like wearing armor during class.
But one professor at the University of Maine at Machias actually went through with it.
Professor Dan Qualls taught an entire class wearing tried and true medieval body armor. Qualls, who teaches the course World History to 1500, invited students to wear medieval attire in dressing for the occasion and, according to a post on Facebook, good medieval times were had by all.
Qualls even went so far as to wear a helmet during part of his lecture and brought along a silver shield, which isn't a bad idea in general when breaking the news that class will still take place the Tuesday before Thanksgiving break.
Reactions to the university's post were overwhelmingly positive.
"Where's his horse?" joked one user.
"Best professor I ever had!" said a former student, with another noting that Qualls had previously taken place in a flash dance on campus.
"This doesn't surprise me one bit!" posted another.
Said one commenter, "We need more instructors with his willingness to make class fun and interesting!!"
According to his bio on the University of Maine website, Qualls previously worked as an archeologist before teaching in the Tennessee public school system.
In addition to teaching, Qualls is the Vice President for Academic Affairs and Head of Campus at the University of Maine at Machias.
It is indeed refreshing to see an educator go the extra mile like Qualls.
But for real, where's the horse?
Maine College Rankings for 2022-2023
Here's how some Maine colleges and universities did in them most recent annual US News and World Report rankings.
See Where These Celebrities Went to School in Maine