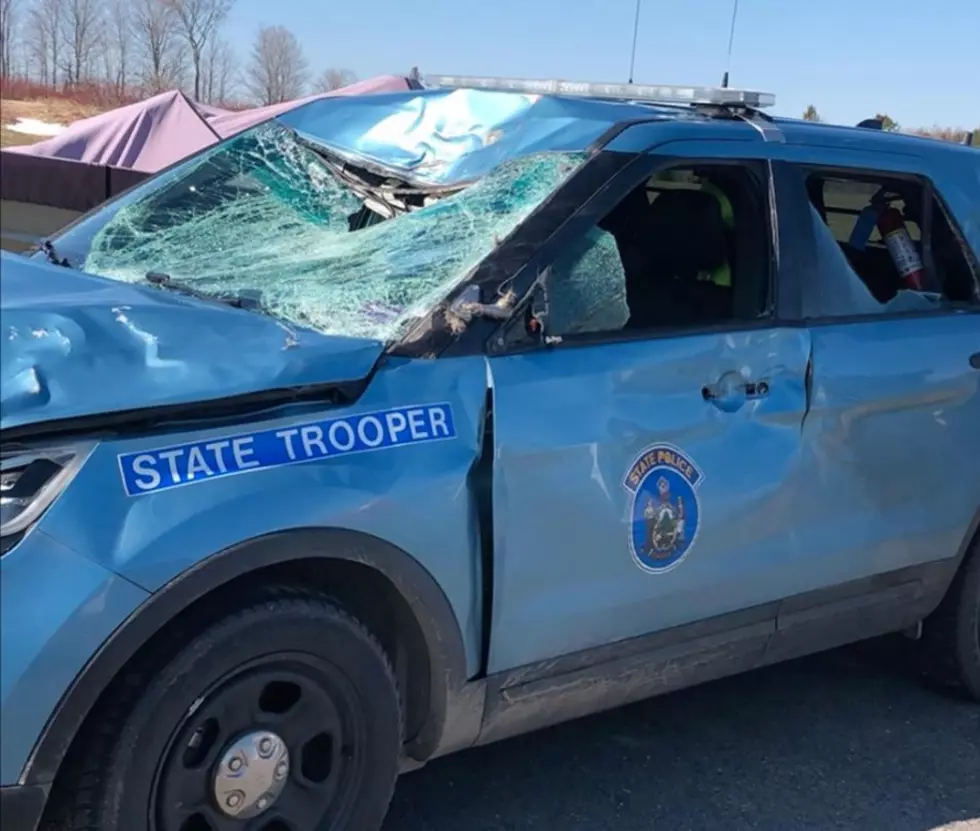 With Close Call For Trooper, Maine State Police Warn About Moose
Maine State Police via Facebook
Holy crap. These scary images remind of the time a very good friend was driving in the North Conway NH area at night many years ago. A moose ran into the path of his vehicle as he was headed home on a country road and WHAM.
Thankfully, my buddy managed to not get injured or heaven forbid killed in the accident. He showed me the pictures of the aftermath and I remember being sickened by the sight of how crushed the roof of his car was.
It was a true miracle that he didn't get crushed as well. Other than the loss of his ride, being covered in moose hair and broken glass was about the worst of it. I gotta believe he was terribly shaken by it.
The Maine State Police put up these photos today of a cruiser that collided moose in Aroostook County last night. According to the Facebook post,
"Troop F - Tr. Castonguay was responding to a call last night when a moose entered the roadway in front of him on the Interstate in Island Falls. Tr. Castonguay was unable to avoid the moose and struck it, luckily he was able to avoid serious injuries."
With more people staying home during the pandemic, there is a theory that more wildlife is showing up outside of the forests than usual. There have been numerous bear sightings in the news lately.
And just last week, someone in my family hit a deer on Spring Street coming to Westbrook from South Portland.
Let's all be on the lookout for more critters (especially the big ones) than we are used to seeing out there and be wicked extra careful, bub. And Trooper Castonguay, all of us here at WBLM are glad you are going to be okay.