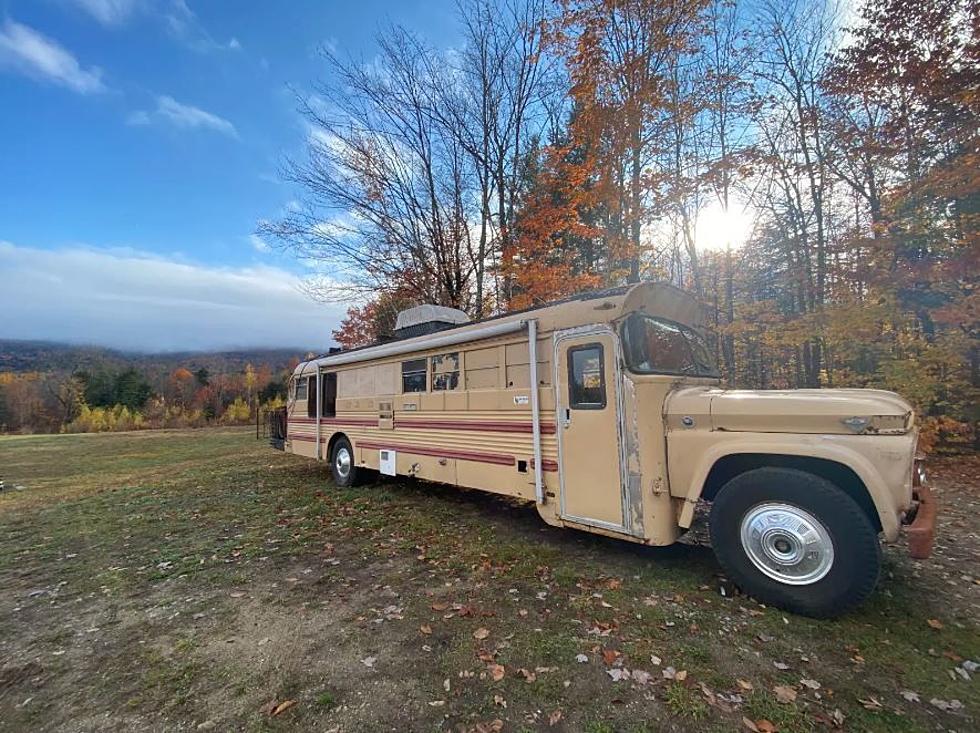 You Can Camp in This 1962 Vintage School Bus
Justin F/HIPCAMP
Camping is not everyone's cup of tea. Personally, I enjoy every part of camping regardless of the minor inconveniences, mother natures tricks, or bugs; however, I recognize that pitching a tent in the middle of the woods to sleep on a root is not ideal for all.
Good news for those "glampers," as opposed to those who like roughing it. Hipcamp host Justin F has turned a 1962 school bus into a retro way to get outside and secluded, while taking away the hassle of finding a flat surface, setting up a tent, and other typical camping tasks.
The school bus is a perfect getaway for two (or more if you have pets). YES, the bus is pet-friendly according to the Hipcamp booking site. The location is known as Toad Hill. It is right on the New Hampshire and Maine line, just outside of Jackson, New Hampshire in Chatham.
It really is an ideal spot for those who want to access the fun towns of North Conway and Jackson yet also want to be secluded and disconnect.
The property is entirely off-grid; however, comfortability is something you will certainly find. Cassidy, the buses name, is insulated and has a wood stove. There's a fully-functioning four burner stove, kitchen sink, bed, and dining table.
There is even a back deck hanging off the back of the school bus. Open the rear doors and sit on the bed, bench, or patio chairs included on the deck to take in the full beauty of New Hampshire.
Cassidy Vintage 1962 Bus
One of New Hampshire's most unique Hipcamp spots: A vintage 1962 School Bus. To make a reservation or see more check it out
here
.
Want a Unique Camping Stay? This New England Spot Features a Tipi, Pizza Oven Patio and Library
A unique camping stay with cool features, this Hipcamp spot borders New Hampshire and Massachusetts. For more info,
click here
.