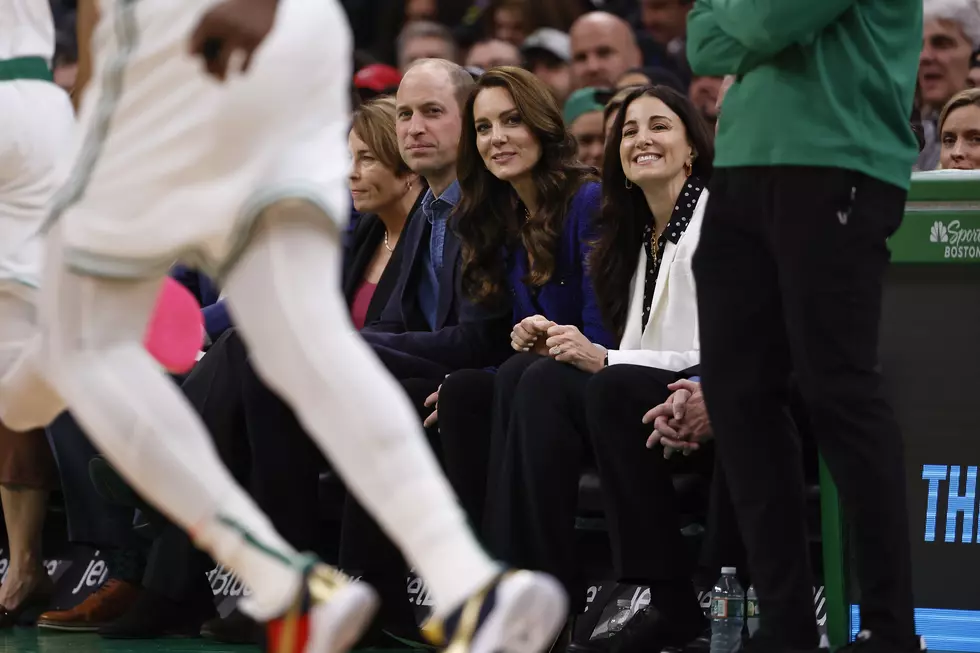 17 Things I'd Say if I Sat Next to William and Kate at a Boston Celtics Game
Getty Images
Along with the red-hot Bruins (led by their esteemed President Sea Bass), the Celtics have become the hottest ticket in Boston. With a league best record as favorites to win the 2023 title, the Green have begun drawing celebrities much the way the Red Sox did once upon a time.
But to date, there has been nobody bigger in the house than Prince William and wife Kate Middleton, who took in Wednesday's matchup against longtime rival the Miami Heat during their trip to Boston.
It's one of the busiest times in recent memory for Boston, as the city will host both the Royals and President Joe Biden for separate events on Friday.
As a regular at Celtics games, I'm slightly relieved my daughter and I weren't there, and didn't get caught up in all the extra security. But it would've been cool to see actual royalty.
So, in honor of each championship banner, here are 17 things I would say if I sat next to William and Kate at a Boston Celtics game:
"Wow, balcony seats?"
"Stop shouting Kate, it's just a t-shirt cannon."
"Shouldn't you be rooting for the Kings?"
"Were you nervous meeting Ernie Bach Jr.?"
"Sorry about that whole revolution thing…"
"Was it hard finding seats on the Green Line?"
"Do you guys call traveling 'holidaying'?"
"Kinda weird your grandma was younger than all the Lakers."
"Is Charles listening on the radio, or can he hear the game from anywhere?"
"If the game slows down, just make the organist play the Benny Hill song."
"If you don't get up and dance for Gino, you're deported."
"Kyrie Irving's kind of our Mr. Bean."
"When they go to the barber, does Prince William ask for the LeBron, or does LeBron ask for the Prince William?"
"Wanna leave early and look for wrestlers at the Kowloon?"
"Thanks for selling me Harry's ticket."
"Do you think Prince Andrew will be on 'Shaqtin' a Fool'?"
"Beer me, K-Dawg!!"
The 13 Most Hated Boston Celtics of All Time
Boston's most celebrated franchise has also produced a number of players New Englanders still despise.
Boston Celtics Who Went Hollywood
Celtics legends who starred in film and television.