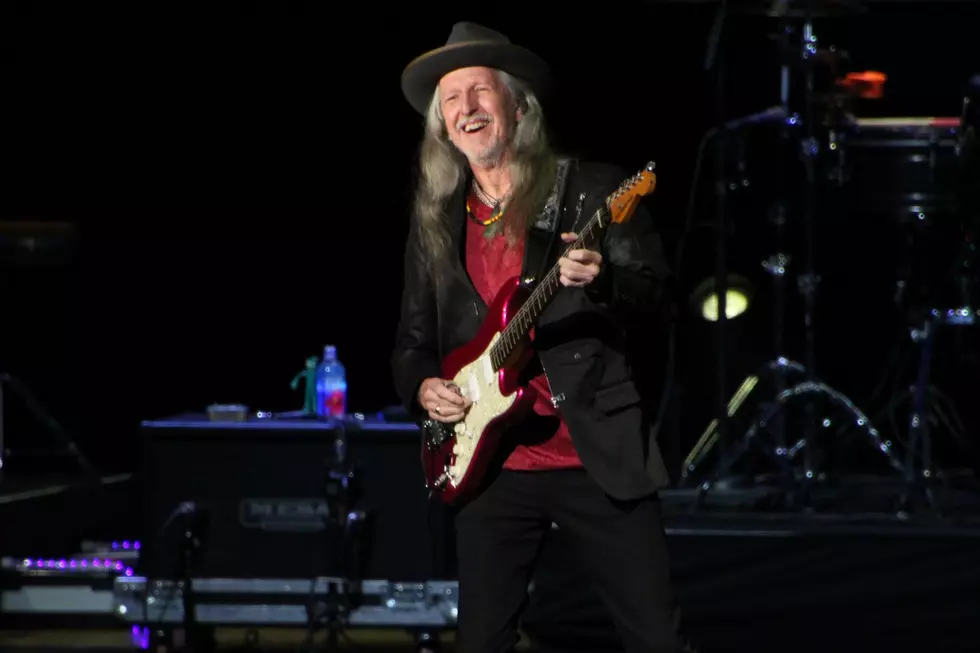 Why the Doobie Brothers Are Covering Steely Dan's 'Pretzel Logic'
Matthew Wilkening, UCR
The Doobie Brothers have always had deep connections with Steely Dan.
They shared a guitarist in Jeff "Skunk" Baxter, then a singer in Michael McDonald. McDonald appeared with Steely Dan's Donald Fagen in the early 2010s as part of the Dukes of September. The Doobie Brothers and Steely Dan toured together in 2018.
For all of this history, however, the Doobie Brothers had no overt link to the title track from Steely Dan's platinum-selling Top 10 1974 album Pretzel Logic. Baxter appeared elsewhere on the LP, but Walter Becker and Dean Parks handled guitars during that particular session. McDonald wouldn't begin contributing key background vocals for Steely Dan until 1975's Katy Lied. Instead, future Eagles member Timothy B. Schmit is featured on "Pretzel Logic."
Then a critical absence altered the Doobie Brothers' extended 50th-anniversary tour: Original frontman Tom Johnston left the road because of a back injury just before shared dates with successor McDonald resumed in May. He was scheduled to undergo surgery, and doctors said Johnston "should not be performing at this time." The Doobie Brothers expect Johnston back on stage once he recovered. In the meantime, however, they were forced to rethink the set list.
Favorites like "Rockin' Down the Highway" and "Another Park, Another Sunday" from Johnston's early years fronting the group were swapped out for songs featuring others. They also began covering Steely Dan's "Pretzel Logic," beginning on May 25 at Hard Rock Live in Hollywood, Florida.
The Doobie Brothers' Pat Simmons tells UCR that the decision traces back to a missed invitation to join Steely Dan onstage during their shared tour.
A few years ago we were touring with Steely Dan. We have a long history with these guys starting around 1972 when we both were fledgling bands attaining our first taste of national attention with the release of our albums "Toulouse Street" and "Can't Buy A Thrill." We became friends, and of course, everybody probably knows Jeff Baxter ended up in our band after departing from the Dan around 1974-75. A couple of years later Michael McDonald, who had been playing and recording with Steely Dan, came to help us out when Tom Johnston was forced to leave for health reasons. It is fortunate Michael stayed, and the rest is history.

Here we are 50 years later, and once again Tom has to take a break for, hopefully, this time, a much shorter period. And thank goodness Michael is back with us again. He's been back for a couple of years now, and not only have the fans been thrilled with our live show, but we're in the process of making new music for release next year as well. So nice to have all three writers and singers together, and an incredible bunch of seasoned musicians out here performing.

Temporarily at least, it's once again fallen to Michael and myself to pull the music together until Tom returns. We knew that we needed to step up and deliver the best show we could for the fans. No doubt people will be expecting something extra to make up for Tom's absence. There are certain songs we were forced to drop, but we brought back some material that we used to perform in the old days, as well as surprises that I know our fans will appreciate.

When we were out with Steely Dan, Donald Fagan asked us if we would like to sit in on their last tune, which happened to be "Pretzel Logic." Because of the logistics of travel, and getting out before the crowds to the next concert location, we were never able to get out there for the jam. Sometimes we might be pulling out of the venue as they began the song. I was always regretful because the idea of sitting in with Steely Dan was incredibly cool, and the song just had this low-down killer-in-the-pocket blues groove that made it so compelling, as well as interesting chord changes that enabled simple blues guitar licks to have so much more melodic breadth.

When we were adding the new tunes to the set, I suggested the track to the guys as maybe a bonus tune to present wherever we felt the audience deserved a little extra. So far that's been at most of the gigs! People want to hear more, and that's what we're there for. We embrace the ride-out as an opportunity to jam and stretch out a little, and it really works for us and the audience. Everybody seems to do a double-take when we start the song. "Are they really doing that? Yes, they are! Holy shit!"
This Doobie Brothers tour reunited Johnston, McDonald, Simmons and guitarist John McFee for the first time in 25 years. North American shows are scheduled to run through October, with concluding dates in Canada.
The Most Awesome Live Album From Every Rock Legend
Some of these concert recordings sold millions of copies, while others received little fanfare. Still, they remain the best of the best.