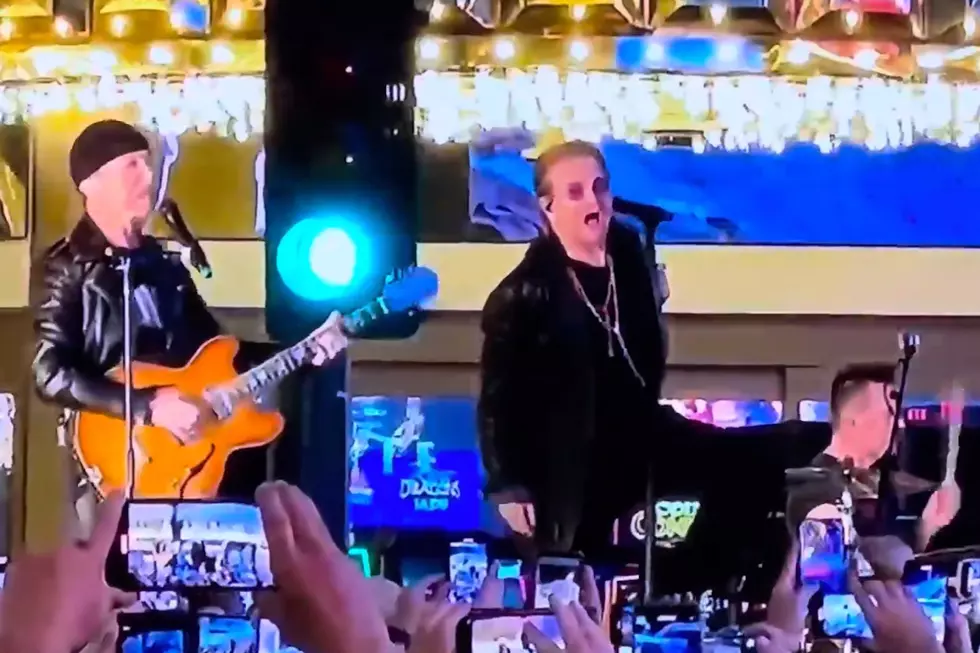 Watch U2 Debut New Song 'Atomic City' at Surprise Las Vegas Gig
YouTube
U2 debuted a new song, "Atomic City," during a pop-up performance on Fremont Street in Las Vegas.
The track gets its title from a 1950s nickname for the famed Nevada city. For decades, the U.S. government tested nuclear devices at a site approximately 65 miles northwest of Fremont Street.
During the performance, Bono referred to "Atomic City" as "a rock 'n' roll 45 in the tradition of '70s post-punk, Blondie, the Clash, some '70s punk … We'll take it from everywhere."
U2's surprise gig also served as a music video shoot. Bono and the band ran through "Atomic City" several times, allowing the cameras to catch them from all different angles. An enthusiastic crowd of fans was on hand for the performance, gleefully embracing the Irish rock legends.
READ MORE: U2's 'Achtung Baby': A Track-by-Track Guide
Notably, the unannounced mini-concert included Larry Mullen Jr., who is still recovering from back surgery. The drummer will not be playing with U2 when the group launches their highly anticipated Achtung Baby Las Vegas residency at the MSG Sphere later this month.
"The four of us recorded ['Atomic City']. Sadly, Larry Mullen Jr. won't be with us at the Sphere," Bono noted to the crowd, as relayed by the Las Vegas Review-Journal. "He doesn't listen to doctor's orders. Neither do many of us. But he is here tonight … Give it up for Larry Mullen Jr.!"
Watch Fan-Shot Footage of U2 Performing 'Atomic City'
U2 Returns to Sin City
U2 has had a long history with Las Vegas. Decades before their recent session, the band wandered the same Fremont Street location while filming the music video for "I Still Haven't Found What I'm Looking For."
READ MORE: When U2 Roamed Las Vegas for 'I Still Haven't Found...' Music Video
That shoot was far less formal than the "Atomic City" gig. While on tour supporting The Joshua Tree, the Irish rockers were charged with quickly filming and turning around a music video at their insistence of their label. U2 had no budget and very little time for the shoot, but still needed something that could be engaging to viewers. The group was already scheduled to play in Vegas, and the city offered something no other location could.
"I only had two lights, really, but Las Vegas has the biggest lighting budget in the entire world," director Barry Devlin later recalled. "It was so low-tech… but that meant we could get in right close [on the band]."
U2 Albums Ranked
U2 don't inspire weak reactions in people. There are passionate U2 fans, and passionate U2 haters, and very little in between.