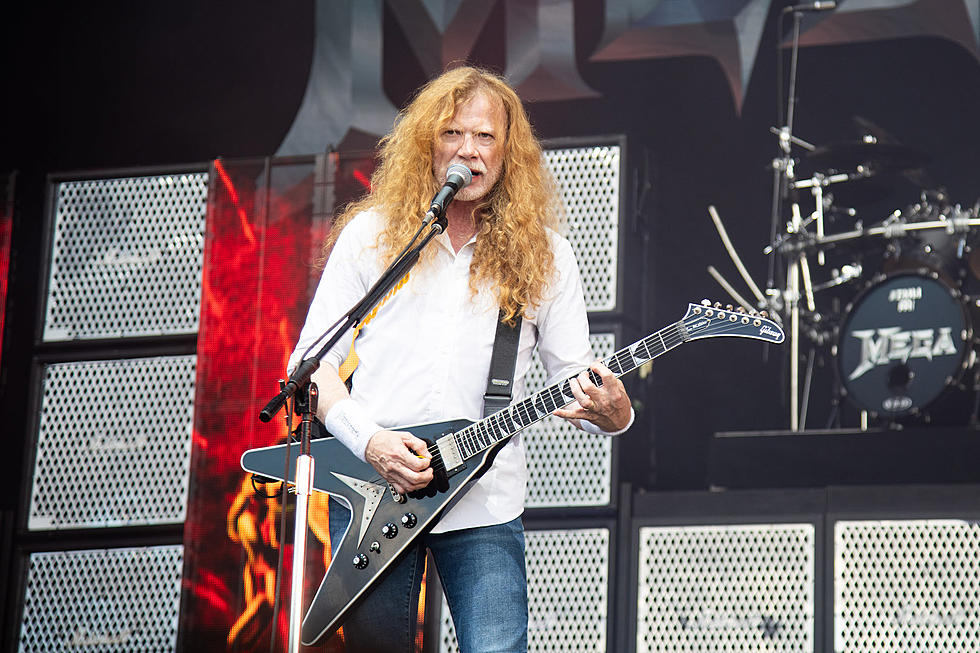 Dave Mustaine Says There's a Reason Megadeth + Metallica Don't Play Together Anymore
Joseph Okpako, Getty Images
"Does Megadeth need Metallica?" Megadeth bandleader Dave Mustaine asks in a new interview before answering the question himself. "No."
Metallica "talks about their fans," the founding and only remaining original Megadeth member adds, "but they don't give them what they've been asking for."
Mustaine continues, "What are they afraid of? I don't know. It's not me; it's them."
READ MORE: Ranking Every Metallica Opener
What does the Megadeth rocker sense fans want? Well, for Megadeth and Metallica to be back on the same stage together, naturally. Much as they were the last time the "Big Four" thrash acts — Metallica, Megadeth, Slayer and Anthrax — all played together in 2011. They did 14 shows together over the year prior.
Slayer have since broken up. But a dual or triple bill could still happen, right? And if not, why?
As you're likely aware if you're reading this, there's a lot of history between Mustaine and Metallica, and that informs these things. Especially since Mustaine, Metallica's founding lead guitarist, was kicked out of Metallica before he formed Megadeth.
However, since then — especially around a decade ago — things seemed to be somewhat smoothed out.
"The issue is that people don't know their history and take sides," Mustaine now tells Guitar World in the expansive talk with the Megadeth leader (March 21). The guitar magazine asked him who's at fault.
Why Won't They Play Together Now?
"I never wanted to take sides," Mustaine explains. "I wanted things to be reconciled and to be friends. But for whatever reason, they didn't."
He continues, "And Metallica [are] represented by the same agent as Megadeth, and I've asked our agent, 'You're Metallica's agent, too; why won't those guys play with us? What are they afraid of?' And they've confirmed they're going out with Five Finger Death Punch and the Pantera thing, so it's clearly about the money."
He adds, "The world wants to see Megadeth and Metallica play together. And in case anyone is wondering, there's fucking money in that. The fans want to see Metallica and Megadeth share the stage."
Megadeth and Metallica are touring separately in 2023. Get Megadeth tickets here. Metallica here. Megadeth's The Sick, the Dying… and the Dead! emerged last year. Metallica's 72 Seasons arrives in April.
Every Thrash Metal 'Big 4' Album Ranked
An incredibly diverse collection of albums, ranked from worst to best!
Follow Loudwire's 'Early Thrash: The Beginning & The '90s' playlist
here
.