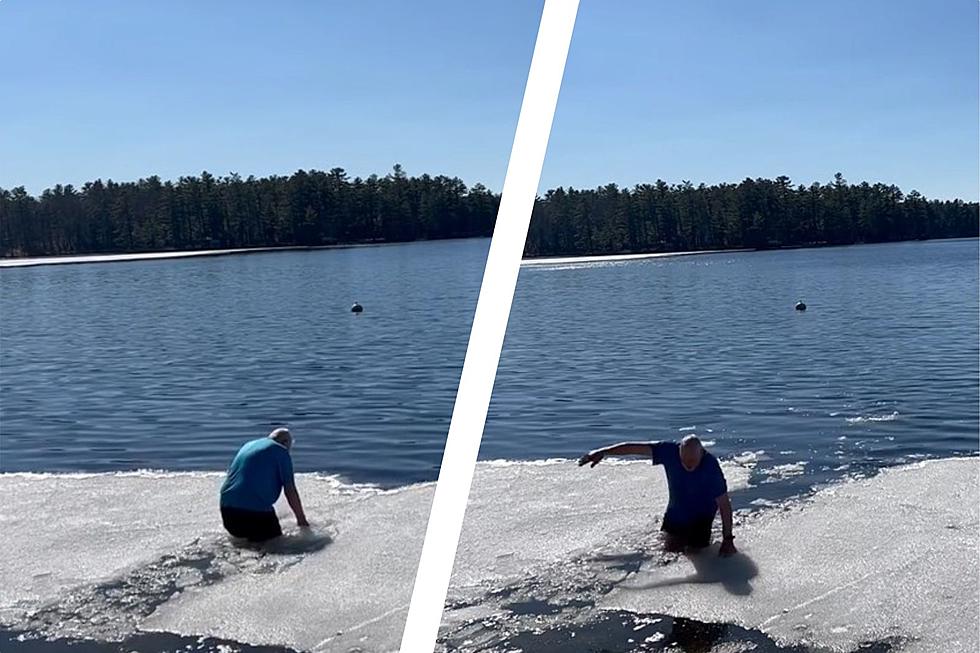 Mainer Celebrates Better Weather With a Swim…in an Icy Lake
Robert Moulton via Facebook
There are many ways to ring in the summer here in Maine. Whether it's a hike, a nice boat ride, or a large BBQ with family and friends, we Mainers know how to bring in the season the right way.
And then there is this option...
Meet Robert Moulton, a man who clearly is a lot of brave than I will ever be.
Robert was at his camp recently. A big fan of early-season swims, Robert decided it seemed like a good day to jump right in...to a lake that still had ice on it. While nobody in their right mind would ever advise this, Robert is not one to be scared of such menial things like, I don't know, Hypothermia?
While the air temperature was a nice 60 degrees, Robert waded in a lake that was an insane 35 degrees. Not only that, but Robert had to deal with a pesky ice field that had trapped his camp in from the rest of the lake. If you think that was going to slow Robert down, then you clearly don't know what a real Mainer looks like. Robert went full bore on that ice pack and ripped right through it.
You would think Robert might be done after that, but that's when the fun really began. The man doggy-paddled around like a golden retriever living his best life.
Now, according to Scientific American, the human body normally starts losing function in that water temperature after about 15 to 20 minutes, so there was never too much of a concern for Robert. He was in and out in just a few minutes. In fact, it may have actually been good for his health. According to Healthline.com, a short cold-water bath will help relieve sore muscles, boost your immune system, and can even improve mental health. Just make sure you don't stay in there too long.
It should be to no surprise that Robert has ice in his veins, considering he is the former Scarborough police chief. I'm sure this is nothing compared to what he had to deal with during his career.
A big thanks to Robert for sharing this insane hobby of his. You can see more of the video and images here.
50 Largest Private Employers in Maine
Below is a list of the 50 largest private employers in Maine. Some are locally owned, while others are national brands. These are provided by the
Maine Department of Labor
. The numbers are from 2022's 3rd quarter. They are the most recent available.
The 20 Most Visted Maine State Parks in 2022