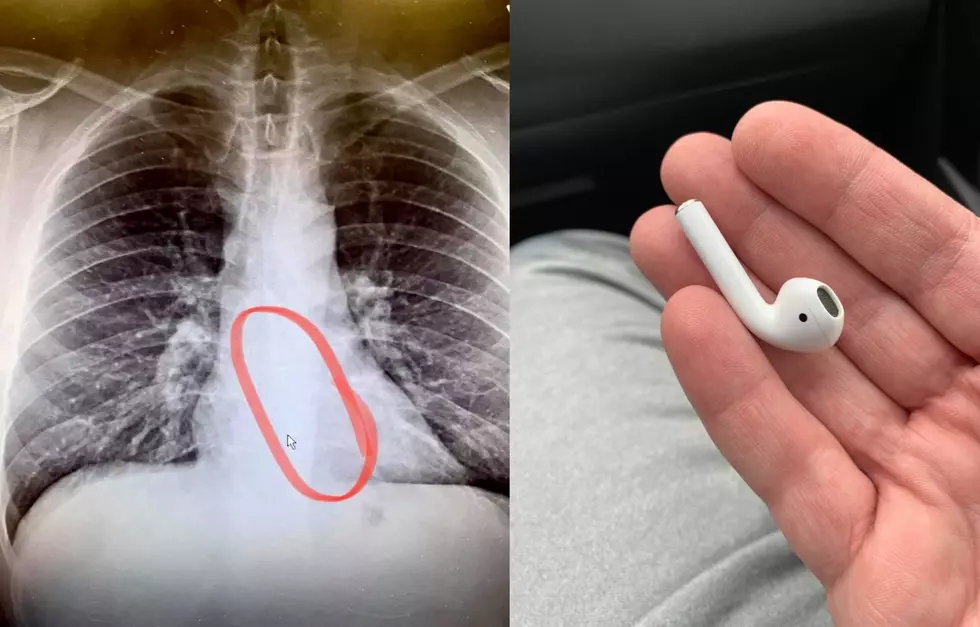 New England Man Swallowed an AirPod In His Sleep and Survived
Bradford Gauthier via Facebook
Add this to the list of things I didn't think were possible.
A man by the name of Bradford Gauthier of Worchester, Massachusetts, went to bed as he usually does with his AirPods in while watching TV so he can keep the noise level down with a newborn in the room, according to NBC Boston.
The next day, after doing some shoveling, he went to take a drink of water only to discover that he was unable to swallow, the news station reported, and he thought maybe his throat was just dry.
He also realized he was missing an AirPod. But there was no way he could have swallowed it, right?
Those things are about an inch and a half long not to mention the big rounded part that goes in the ear hole.
Bradford then went to the nearby clinic for an X-ray which confirmed that yes, somehow, Bradford swallowed an AirPod in his sleep, NBCBoston.com reported.
Fortunately, doctors were able to remove the AirPod via emergency Endoscopy, Bradford detailed in a Facebook post.
And surprisingly the AirPod still mostly works. The microphone isn't what it used to be though. I guess being stuck in an esophagus will do that.
Apparently having a newborn really does wear you out. Now Bradford is warning folks to use caution when using AirPods when tired.
Hey, Tim Cook, maybe throw this guy a bone here with some new AirPods?
Enter your number to get our free mobile app
CHECK IT OUT: How To Unlock Your iPhone With Your Voice
CHECK IT OUT: See the 100 most popular brands in America