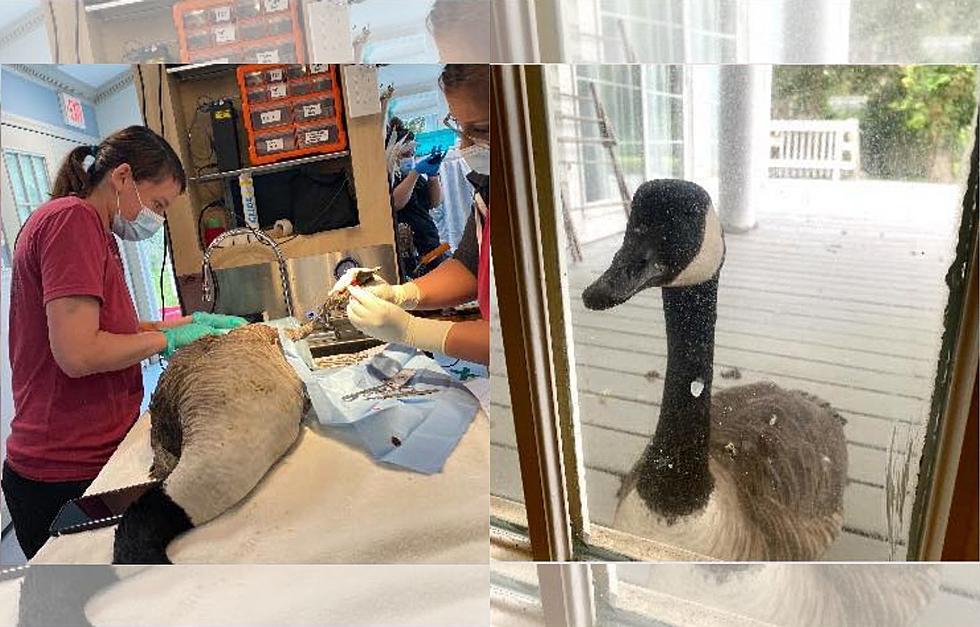 These Geese in New England Will Have You Believing in Love Again
New England Wildlife Center via Facebook
New England Wildlife Center
The New England Wildlife Center located in Weymouth, Massachusetts is a non-profit organization that works hard to provide medical care to wildlife and education for the public.
Meet Arnold
Arnold is a Canadian Goose who lives and waddles around a pond near New England Wildlife Center's hospital. Staff noticed that Arnold had developed a limp and kept falling over. So the loving staff stepped in to help poor tipsy Arnold the Goose.
They found that Arnold had suffered some sort of an injury that resulted in 2 open fractures on his foot. They suspect it could be due to a snapping turtle or another predator in the water.
Their best course of action to help Arnold was to amputate part of the foot and suture the wound closed.
As they prepared to sedate the injured goose there was a tapping on the door of the clinic.
True Love
It wasn't a person dropping off an animal, or the Uber Eats guy. It was another Canadian Goose. None other than Arnold's mate.
Somehow wifey goose knew her man was in there and not knowing what was happening to her man she wanted to bust him out. She impatiently waited by the door through Arnold's surgery which thankfully went off without a hitch.
After surgery staff allowed Arnold to recover by the glass door where his lady was waiting. As soon as they placed him there she began to calm down and groom him through the door.
May we all find a love like that.
Take a Look at These Super Rare, Crazy-Colored Lobsters Found in Maine, New England
Can The Average Person Outrun These Maine Creatures?