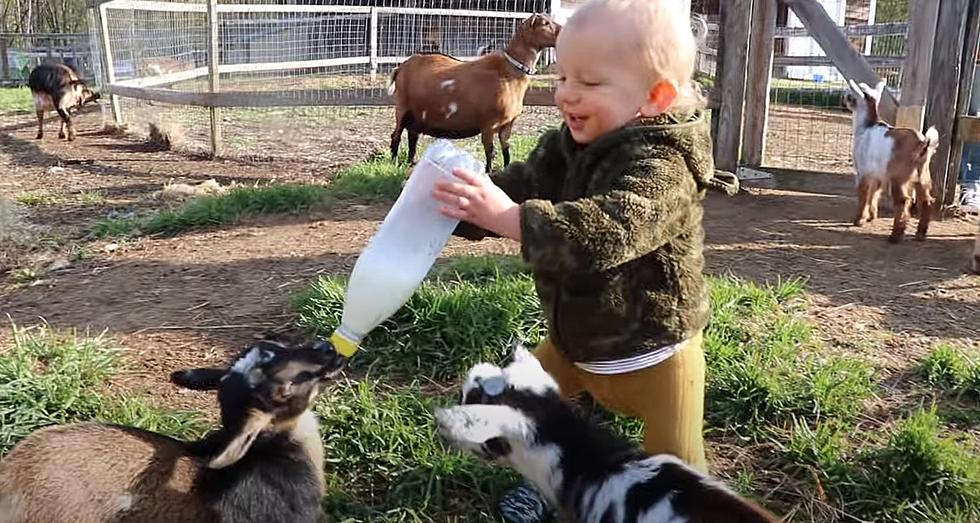 WATCH: Maine Baby Goats Fed By Grandkids Is Way Too Cute
YouTube
Look, we know the weekend is here and you're ready to party.
But before you get into any wild ragin' with yer buds (6 feet apart in a group no greater than 10 of course), let's take a quick trip upta Cumberland to check in on some of the new members of the herd at Sunflower Farm.
My friend Hope recently captured an impossibly cute moment with her grandkids.
According to her description on the Sunflower Farm YouTube channel,
"After weeks of not seeing our grandkids, they moved in with us for a while and have been helping with farm chores. It has been such a treat."
Watch as Hope's youngest grandchild feeds a baby goat. It really is likely the most adorable thing you'll see this week.
The little helper does a terrific job of holding the bottle for the new goat kid. Then all of a sudden the bottle falls to ground.
After that, the tiny mistah man decides he should the bottle a try too.
After all the baby goat sure seems to love it, right? Of course the grown-ups at the precious scene are quick to discourage as the bottle heads to the little human's lips.
The baby goat is like "Hey, lemme get some more of that." Then it's time for big sister to take over and make sure the milk goes to the right babies.
OMG...this is too friggin' cute! Enjoy.
Sunflower Farm is one our favorite places to visit in the summertime.
The Ultimate Guide to Maine Drive-in Theaters