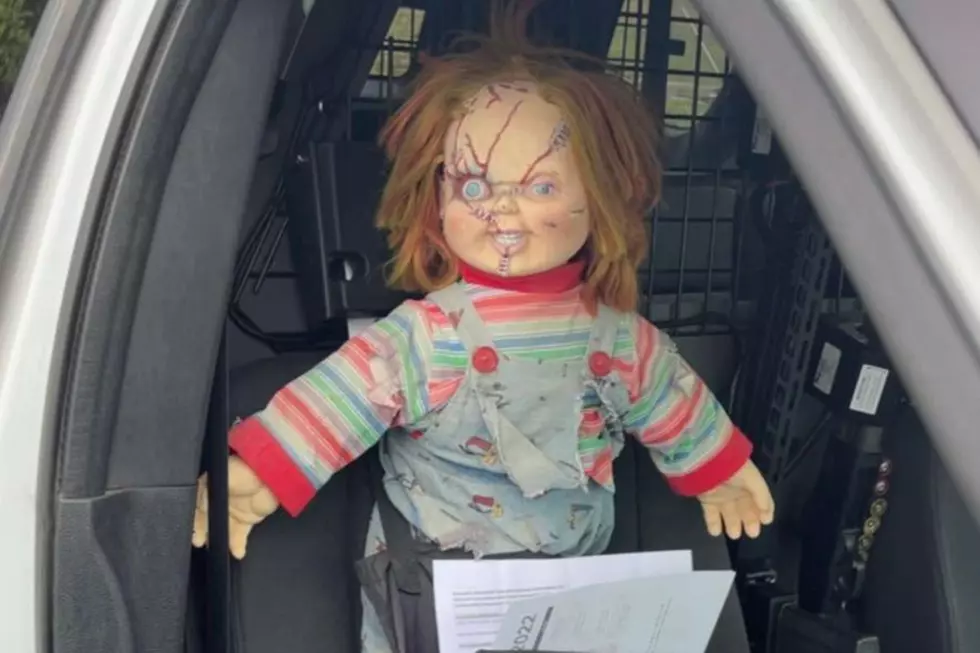 You Might See Scary Killer Doll Chucky Riding Shotgun in This Maine Police Car
Fort Fairfield Police Department via Facebook
Ever since the release of "Child's Play" in 1988, people have been afraid of (or love) the killer doll Chucky.
What would you do if you saw the killer doll Chucky out in public? Some people are not afraid of this '80s slasher due to the fact that it is a doll and let's be honest, he is easily kickable. However, seeing Chucky out in public could scare some people (we all know not to trust Chucky).
Today, for those that choose to love this character, people can dress up like him or even get themselves a life-sized version of Chucky.
Well, you may spot the "Child's Play" character while driving through Fort Fairfield, Maine. Don't worry though, there is a pretty good chance that Chucky will not attack you as he is riding in a police car.
The Chief of Police at the Fort Fairfield Police Department took to Facebook to warn drivers that they may see something a bit terrifying while driving around the area.
The Facebook post warns drivers not to be alarmed if they happen to see a surprising passenger in Officer Ferguson's police car during the next couple of weeks. I'm sure that you guessed it by now, the surprising passenger is none other than the killer doll Chucky.
It is pretty amusing to think that Chucky was finally caught and is now riding in a police car in Maine, but it seems that he's not all that bad and is just choosing to enjoy the Fall foliage just like everyone else.
25 Things You Say That Could Get Your Mainer Card Revoked
According to Mainers, if you say any of these, you will get your Mainer card revoked and probably be seen as a flatlander.
These Celebrities Call New England Home
These celebrities all have ties to New England in some way, shape, or form!