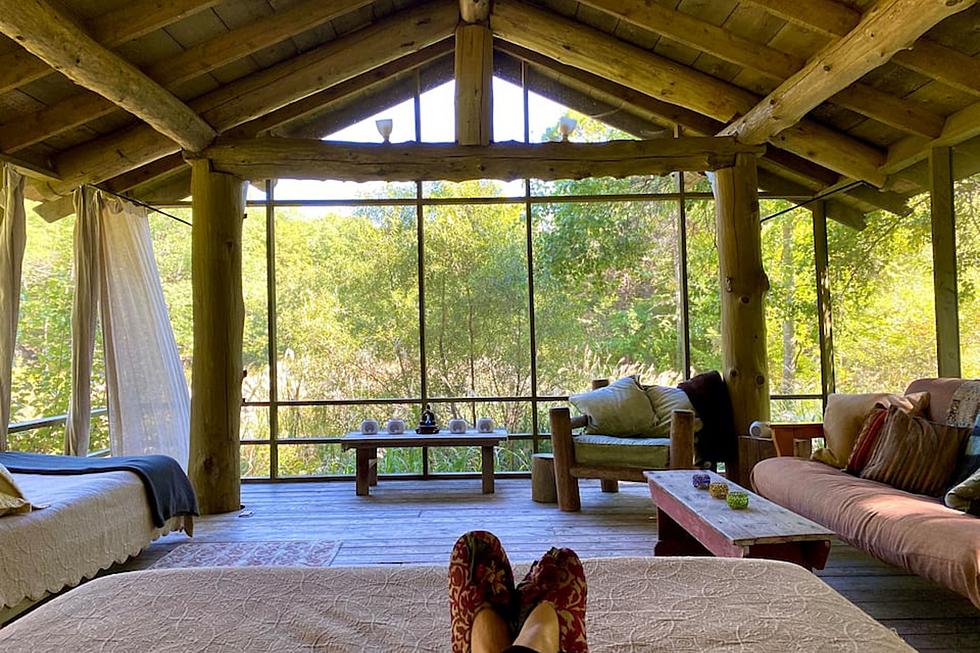 Need a Technology Break? Get With Nature at This Stunning Massachusetts Pondhouse
Gayle, Airbnb
New England is home to an unimaginable number of beautiful and unique Airbnb properties, but this one may just take the cake for the best place to stay during the fall months.
The Pondhouse is a glamping getaway set up in the boonies of Western Massachusetts. As one might assume from its name, the Pondhouse is a cabin set up next to a pond in Ashfield, where guests don't have access to WiFi or cell service.
Instead of spending vacation time stuck to a screen, Pondhouse guests will spend time out in nature. At this one-of-a-kind Airbnb, guests can chop their own kindling, light a bonfire, take a walk with the host's friendly dog, Charlie, and stargaze under the night sky. Plus, thanks to the cabin's screened-in, 360-degree views of the surrounding forest, you can experience the changing leaves and the tall grass, which is best in the fall, without even leaving your bed. Imagine taking in the rich yellows, burnt oranges and brilliant reds as the leaves change color – all from the coziest of spaces. It's truly every leaf peeper's dream come true!
Fall is right around the corner and if you're looking for that perfect place to spend a romantic night in nature with your boo or to treat yourself to a weekend reconnecting with you and only you, this might just be your spot. There is still some availability for the upcoming fall season, but it's limited. Check out the photos below and see if this could be your new go-to glamping location.
Leaf peepers: Have you checked out this interactive map to see when the fall foliage will hit peak on the SouthCoast and across New England?
Sleep Among the Foliage Inside This Stunning Mass. Pondhouse
Need a getaway from the hustle and bustle of everyday life? The Pondhouse Airbnb in Ashfield, Massachusetts provides a WiFi-free, cell service-free space that is not only aesthetically pleasing and relaxing, but is also a great way to reconnect with yourself and with nature. Plus, if you're searching for the perfect spot to check out New England's stunning fall foliage without getting out of bed, search no longer.
Post Up at This Breathtaking Beachfront Property For Sale in Westport
Live your best life – on the beach! If you've ever wanted to purchase your own beachfront property, don't sleep on this opportunity. A small but valuable plot of beachfront land is on the market in Westport and to say that the views are stunning is a massive understatement.
The Ultimate A-Z Apple Picking Guide for Massachusetts and Rhode Island
Apple picking is classic fall family fun and there are lots of farms to visit across Massachusetts and Rhode Island. So whether you want a road trip or to just stay close to home, here are all the apple orchards you can pick from this season. Just click on each one to find out more.