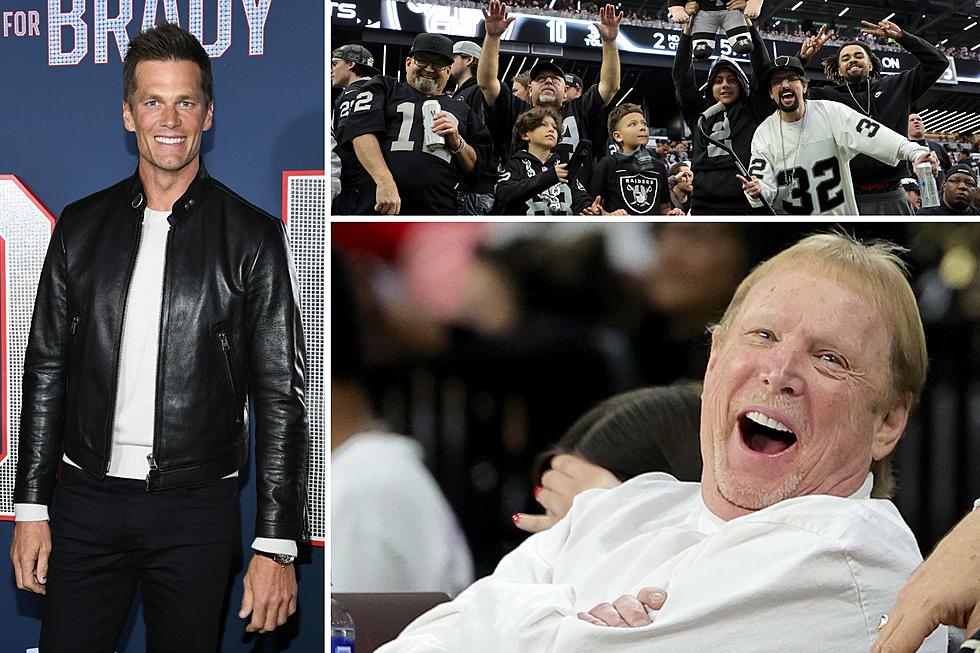 The Raiders Convinced Tom Brady to Join the Team…the Ownership Team
Getty Images
The Greatest of All Time may have retired from playing, but his NFL days are far from over.
Former New England Patriot quarterback Tom Brady didn't spend a lot of time away from football, as it was recently announced he has a new connection in the sport. According to ESPN, Brady will be buying a stake in the Las Vegas Raiders.
Brady now becomes a minority owner to the team principally owned by Mark Davis, the son of the late legend Al Davis. Al originally took control of the organization in 1972, when the franchise was still in Oakland. Since then, the team has had numerous stints in both Oakland and Los Angeles. Mark then moved the team to Las Vegas back in 2020.
Brady is not the only significant former Patriot in the building. The Raiders are coached by Brady's former offensive coordinator Josh McDaniels. The two won a lot of games together, including a few Super Bowls back in their Patriot days. McDaniels coached the Patriots between 2001-2008, and again from 2011-2021. Most of those years were rather successful for he, Brady, and the rest of the team. McDaniels will now be entering his second year as Raiders head coach, following a rough first year that saw Vegas finish just 6-11.
Of course, the other fun connection Brady has to the Raiders is the "Tuck Rule" game. The infamous 2001 divisional playoff game was played in cold and snowy conditions. The Patriots were down late when it looked like Brady had fumbled the team's chances away. But that's when the world found out about the "tuck rule", and New England was given another chance, after it was determined to be an incomplete pass.
The Patriots would take advantage of this and go on to win the game and ultimately the Super Bowl that year. I'm pretty sure we know the history of Brady and the Patriots after that.
A lot of Raiders fans are still not over this incident. They will claim the fix was in, even though the play was called correctly by the officials.
According to ESPN, Mark Davis was asked if Brady had admitted it was actually a fumble. The Raiders majority owner had no comment for the question.
There's no word how active Brady will be or what his future prospects of majority ownership stand. All I know is if I was an owner and Brady wanted in, I would sign him up in no time. Surrounding yourself with very successful people is never a bad thing.
LOOK: These Are the Richest NFL players
To uncover the richest NFL players,
Stacker
consulted
Celebrity Net Worth
and ranked them by their 2022 net worth, calculated using a proprietary formula.
25 Celebrities Who Have Owned Homes In Maine
From Kittery to Islesboro, some of Hollywood's biggest names have owned homes in Maine. We explore the who and where.