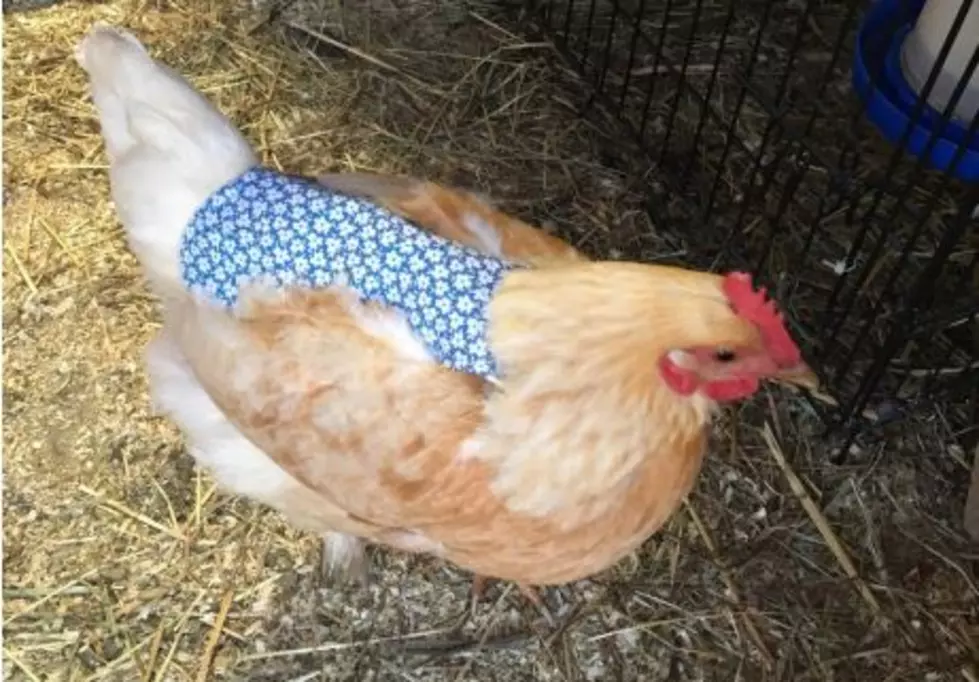 Chicken Aprons And Duck Diapers, Only In Maine
Etsy/BoNanaPetBoutique
According to the Sun Journal, two ladies in Turner are making chicken and duck wardrobes that not only improve the birds' quality of life, but make them even more adorable. Maybe the clothes really do make the bird, because the fowl also seem to have more confidence in their strutts. Yep, I've got dad jokes.
Mother-daughter team Beverly Cameron and Karrie Berry own BoNanas Pet Boutique on Etsy. First of all, of course someone with a name as cute as Karrie Berry would make clothes for pet birds. And the shop name comes from Beverly's nickname given to her by her grand daughter. It's all too cunnin', wait 'till you peep the pics of their birds dressed for company.
First is the duck or goose diaper. This is actually a great invention because apparently a lot of folks let their big birds watch America's Got Talent with them on the couch in the evening; these cute accessories save on clean up. You line the duck diaper with a baby diaper and dispose of it as you would a regular diaper.
I had two ducks when I was a kid.  It was the 70's so my brothers named them Starsky and Hutch. I wanted to name one of them Huggy Bear. I don't think I was aware of what Huggy's job was in the show, I just liked the name. I lost out on naming the ducks, but I got to name our cat Sebastian after Sebastian Cabot, the actor who played Mr. French on Family Affair. Remember watching that after school any body?
Is this dapper duck about to give a college lecture or go on a special first date to the the pond? He's rocking his very Maine-looking duck bow tie and no matter where's he's headed to, he's going to be a hit. Much respect Mr. Duck for not choosing the tacky clip-on tie. Beverly and Karrie also make a Duck Tux for formal occasions, like weddings.
This charming chicken apron isn't just a fashion statement, it has a real purpose and it has to do with rough sex. Yes, according to the Sun Journal article, roosters sometimes get a little carried away and hurt the hens backs while mating. The aprons protect the hens from the rooster's talons and they don't seem to mind wearing them at all. Now the rooster is asking to introduce a blindfold to the mix, good luck buddy.
Here's a How-To video to put the apron on: