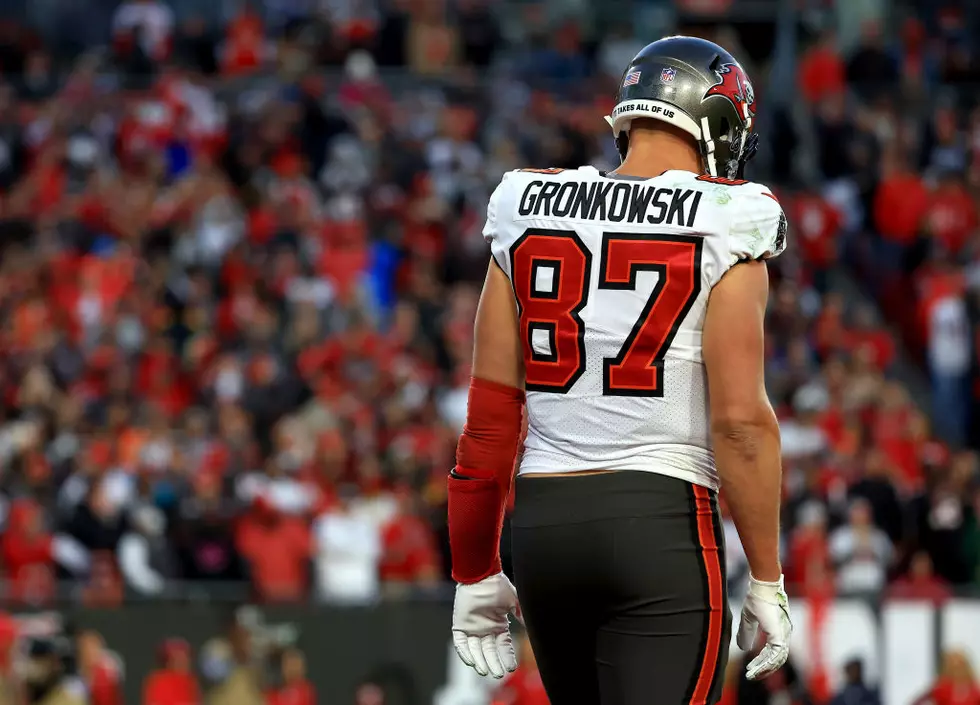 Is Gronk Coming Out of Retirement to Play for Tom Brady…Again?
Getty Images
Here we go again...
Is NFL tight end and former New England Patriot Rob Gronkowski coming out of retirement to play alongside Tom Brady...again?
This certainly would not be the first time. Remember after the 2018 season when Gronk retired? He skipped 2019, and returned the following year to play for the man, the myth, the legend: Tom Brady.
Now, why?
Well, first of all, he could. In 2019, Gronk was still in good enough football shape. How good? Good enough to win another Super Bowl in 2021.
Second, Gronk is loyal to his buddy Tom.
After their last Patriots Super Bowl in 2019, when Gronk retired, Brady knew exactly how to get his loyal companion back on the field. This time would be in a different uniform:
"[Brady] hit me up and was like, 'Would you come down?' And I was like, 'I've been waiting for you. I've been waiting for you to make a move,'" according to an NBC Sports article. "It's just been over a series of just talks. It's just an unbelievable story. There's a lot more conversations that went down but we're just going to keep them between us."
And remember when he came back and won another Super Bowl with the GOAT?
So, who's to say he will or won't do it again?
Well, Gronk hints that it might be time...
Saying he is bored is a very broad hint at returning to the NFL, but don't count him out. Apparently this hint is a tad more serious.
"The Bucs had several conversations with Gronkowski around Thanksgiving about him possibly reuniting with quarterback Tom Brady to help the struggling squad secure a playoff berth," according to Sports Illustrated article.
It is reported that he is working out daily and still in good shape.
It gets better (or worse): he is even ready to abandon the 87 for a new, nonconventional number.
Do I REALLY think he is coming to save Brady and the horrific Buccs? I am not sure. I already regret saying "horrific."
All I've known is playoff Tom, so I won't say never.
Gronk MAY return to the NFL. He MAY play with Brady and just save the Buccs from their awful start. As for the GOAT, Tom Brady just MAY have another ring in him.
28-3.
LOOK: The most extreme temperatures in the history of every state
Stacker
consulted 2021 data from the
NOAA's State Climate Extremes Committee (SCEC)
to illustrate the hottest and coldest temperatures ever recorded in each state. Each slide also reveals the all-time highest 24-hour precipitation record and all-time highest 24-hour snowfall.
Keep reading to find out individual state records in alphabetical order.
Pictures: See Inside Luke Bryan's Stunning Beach House
Luke Bryan
listed his 4,600-square-foot beach house for sale in December 2022. The stunning Florida mansion includes four bedrooms and bathrooms and comes furnished. The master bedroom overlooks 95 feet of water frontage, but if you don't want to descend all four floors to get there, you can absorb the warmth of the private, heated pool. This Santa Rosa Beach property is on sale for $18 million, among the most ever for a
country star's house
.