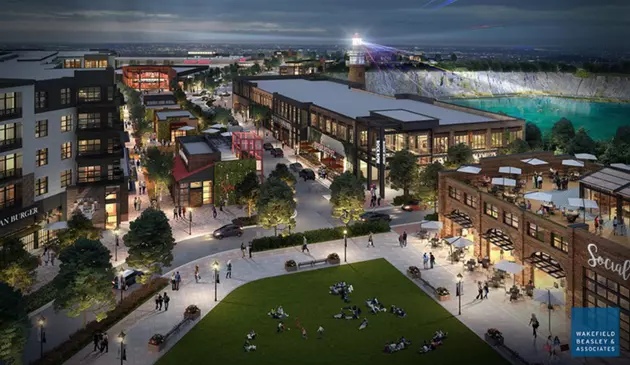 'Rock Row' Could Be Bringing A New Starbucks And Chick-fil-A To Westbrook
Wakefield Beasley & Associates
Several months ago, when the massive development project in Westbrook got its name "Rock Row", people began speculating about what other businesses would join the anchor of the development, Market Basket, when the first phase opens sometime in 2019. Well, according to Keep Me Current, the developer of the project may have tipped their hand.
Waterstone Properties Group representatives appeared in front of the Westbrook planning board to once again lay out the plans for phase 1 of their sprawling, multi-year project that become the hub of retail on the Westbrook/Portland line. Waterstone revealed a more realistic timeline for the opening of Market Basket, the fall of 2019 rather than the initial estimate of a summer opening. Additionally, Waterstone mentioned that Starbucks and Chick-fil-A could join Market Basket as retail cornerstones.
Phase 2 will include a new movie theater, in which Waterstone says they are close to finalizing a deal for. Plans also call for a whopping 8,200 seat concert venue, and a massive "beerplex' that could be the home for multiple breweries. Completion of phase 2 would be expected until sometime around 2022.
What other retail shops/restaurants would you like to see in Westbrook's "Rock Row" in the future? Let us know on our Facebook page.